Posts tagged 'Video'
There has been a lot of discussion in recent months about the legislative push from Democrats in a number of states to expand the "right" of abortion up until the moment prior to birth — even as the left routinely denies that late-term abortions are a thing — so a conservative pundit used hidden cameras to try and find out more about how a woman would go about getting a late-term abortion.
Steven Crowder, who is typically known for his hilarious takedowns of leftist absurdity, abandoned any pretense at humor for this grave topic. Instead, he paired up with two women who would wear hidden cameras to obtain undercover footage inside an abortion clinic in Boulder, Colorado, where late-term abortions are legal.
Those two women were Muriel, who was 25 weeks pregnant with a baby named "Rose," and her friend Kat, who would accompany her as "moral support" as she pretended to be in search of an abortion procedure at the clinic.
While the goal may initially have been to catch damning evidence on video about the clinic and late-term abortions, the two women were instead relegated to the clinic's waiting room for quite some time, where they engaged in a shocking and heartbreaking discussion with another woman identified only as "Patient X," who was waiting to receive a late-term abortion.
Patient X revealed that she was somewhere between 28 and 32 weeks — 8 months — into her pregnancy. At 32 weeks, an unborn baby is all but fully-formed and completely viable outside the womb, presuming there are no serious life-threatening deformities or serious health issues. Indeed, Patient X further revealed a short time later that there was absolutely nothing wrong with her unborn baby, as had been revealed by prior checkups, specific tests, sonograms and ultrasounds.
In the meantime, the patient quietly explained to the two women what she had learned was involved in the late-term abortion procedure, which began with an injection into the womb of a lethal cocktail of chemicals that would stop the unborn baby's heartbeat within ten minutes to a few hours.
She then noted that the recipient of the procedure had to walk around for the next few days still carrying the dead baby, and worried about the possibility of contracting sepsis, or an infection of the bloodstream, from the dead infant still being carried in the womb, not to mention other risks the procedure posed, such as a damaged or perforated uterus.
Patient X mentioned that she had attempted to ask the doctor about her concerns, but he had "Kind of shoved it off like it was no big deal." She further revealed that this was her third attempt at obtaining an abortion, as two previous efforts — first at 10 weeks, again at 18 weeks — had been unsuccessful for one reason or another.
Incredibly, a nurse poked her head into the waiting room at one point to suspiciously ask the two women if "Patient X" had said "anything odd" to them, and noted how "nervous" the clinic got when random patients chatted among themselves, because, "There's a whole anti-choice movement of people that get into the waiting rooms and then sit in the waiting rooms and talk people out of their (abortions)."
It is worth pointing out that Patient X, who admitted to having already birthed two children, was far from gung-ho about getting the abortion, as she was obviously struggling with the choice to terminate her pregnancy, and she thought it was "not right" to end a pregnancy so late and suggested it all boiled down to money.
She further revealed that her husband largely disagreed with her choice to get an abortion and worried how it would impact their relationship going forward. She also expressed her own indecision on the irrevocable choice she was on the verge of making, as it was counter to everything she had believed and learned in her Catholic upbringing.
The video later showed that, after the two women had left the clinic, they prayed on behalf of Patient X, that God would intervene and prevent her from obtaining the abortion that day in order to save the innocent unborn baby's life.
Unfortunately, it is unknown whether Patient X followed through on getting that abortion or not, and Crowder pointed out in his video that, even if late-term abortions were as rare as abortion advocates claim it to be — purportedly only about 1 percent of all abortions — there would still be more than 10,000 such late-term abortions every year, a monstrous and horrifying figure.
Sadly, far too many elected Democrats — including many of the prominent candidates running for president — see nothing wrong with murdering innocent babies, as they are all-in with a party and movement that has rejected God and is increasingly anti-life and anti-women … pretty much the opposite of what they claim with a smile when speaking to average Americans who abhor the practice of late-term abortions.
ABOUT THE AUTHOR:

Reported By C. Douglas Golden | January 30, 2019 at 9:29am
When gay black actor Jussie Smollett said he was attacked by white men who yelled some stuff about "MAGA," it didn't take long for the liberal rage machine to mobilize.
"The star of the tv show 'Empire,' Jussie Smollett, was attacked by two assailants early Monday morning in Downtown Chicago according to Chicago Police Department Spokesperson Anthony Guglielmi," CNN reported.

"Smollett, 36, was walking on the 300 block of E. North Lower Water Street when two men approached him and 'gained his attention by yelling out racial and homophobic slurs towards him,' Guglielmi says in a statement.

Advertisement – story continues below

"Two unknown offenders — it is unknown if they were male or female — then attacked Smollett, hitting him in the face and then poured an unknown chemical substance on him.

"At some point during the scuffle, one of the offenders wrapped a rope around the victim's neck and then both offenders fled the scene, the statement reads."
Smollett took himself to Northwestern Hospital, where the incident was reported to police, according to CBS Chicago.
There was plenty of condemnation to go around, particularly after TMZ reported that the attackers had shouted "this is MAGA country." Two of the outraged included black Democratic senators, who just by chance, happen to either be running for president or widely expected to be running for president.
There was one problem with this "modern-day lynching" narrative: None of that "MAGA country" stuff was originally mentioned to police and they're having trouble corroborating the fact that the attack even happened.
Advertisement – story continues below
"According to the victim, the offenders' faces were concealed," a police spokesman said, according to Reason. "We have no record indicating that (they shouted 'MAGA'), we only have record of them shouting racial and homophobic slurs at him."
A statement from Chicago Police confirmed that, Reason reported.
"We have no record of the 'MAGA Country' comment," the statement said, according to Reason. "We have racial and homophobic comments documented."
CNN reported that when police heard about the accusation and called the actor, he "relayed it to detectives in a supplemental interview."
But then again, there's some doubt as to whether the attack even happened.
In an area that has a "very high density" of surveillance cameras, according to the police spokesman's statement, there is not a single image of an attack like the one Smollett described.
"A Chicago police spokesperson tells CNN that investigators canvassed the neighborhood where the reported attack occurred on actor Jussie Smollett and have found no still images or video from security cameras of the incident," CNN reported.

"The only image of Smollett police obtained from security cameras was inside Subway Sandwich shop near the location of the reported crime, the actor was standing alone."
For all I know, Smollett really was attacked by bigots who shouted the phrase "MAGA country," and ambitious, Democratic politicians who are calling this a "a modern-day lynching" are absolutely justified. But here's the thing — I'm going to wait to see whether or not that's the case, as everyone else should have.
It hasn't even been a fortnight since the Covington Catholic incident, and the lesson we were should have taken away from that "teachable moment" — be careful dealing with stories that confirm your cultural narrative — has been lost.
No fewer than two senators with eyes on the 2020 Democratic nomination have taken this accusation as gospel because they can use it as an illustration of supposed Trump-fueled hate coursing through the country, even though no arrests have been made and the evidence is scanty. If this turns out to be a hoax, Sens. Booker and Harris own this, as do the legion of liberals who tweeted this out without waiting for a fuller investigation.
Even if this turns out to be true, what they did was supremely irresponsible. That these two individuals are in the Senate is bad enough. Just imagine one of them in the White House, backed by a legion of people who think Donald Trump supporters are irresponsible bigots, but are willing to blame white Donald Trump supporters for a hate crime without any charges or even direct physical evidence. It will make the Obama years look like pure reason.
ABOUT THE REPORTER:

Reported By Malachi Bailey } November 15, 2018 at 2:16pm
A filmmaker traveled to Mexico and did what the U.S. media didn't do: he witnessed the migrant caravan for himself and exposed the truth.nFilmmaker Ami Horowitz went to Oaxaca in southern Mexico to uncover the truth about the migrant caravan.
The caravan, consisting of thousands of Honduran illegal immigrants, has caught the attention of the media as it heads toward the United States. However, much of the coverage consists of hand-waving from the left-wing establishment media, which claims the caravan consists of peaceful families just trying to escape violence.
After visiting the caravan for himself, Horowitz came to a different conclusion.
"Despite the framing of the caravan as being full of women and children, the reality on the ground is quite different. Approximately 90 to 95 percent of the migrants were male," Horowitz said in a Twitter video.
Advertisement – story continues below
Last month, BBC wrote that "The migrants, mostly from Honduras, say they are fleeing violence and poverty, and include women and children." That's a grossly misleading statement for a caravan consisting of over 90 percent men.
The establishment media also continuously repeated the narrative that the caravan is made up of people seeking to escape violence.
"We do know that many migrants have said they are fleeing terrible gang violence, with some fearing for their lives," The Guardian claimed last month.
Advertisement – story continues below
However, Horowitz discovered that the migrants are actually seeking employment when they illegally enter the United States.
"The major narrative being pushed by the press has been that the migrants are leaving Honduras because they are facing extreme violence and that their lives are under constant threat," Horowitz said.
To discover if this was true, the filmmaker asked several migrants, "Why are you coming to America?"
"To get a job," one responded. "To work," said another.
Advertisement – story continues below
It's clear that these migrants, who are mostly male, are economic migrants seeking American jobs. They aren't "women and children" who are "fleeing violence."
It's completely absurd that the truth had to come from a filmmaker investigating the caravan for himself because the establishment media is too busy peddling lies and misinformation.
ABOUT THE AUTHOR:
As both parties scrutinize the vote count in Florida's Broward County, with the state's gubernatorial and senatorial races closing in on a tie, Sen. Marco Rubio said the county's elections office has a history of malfeasance.
"This is at a minimum a pattern of incompetence. Voters deserve better," the Florida Republican said Thursday on "Tucker Carlson Tonight."

"This is not even a partisan thing. This is a county that apparently cannot even count votes as well as a county that just got wiped out by a hurricane."
The state's Republican Gov. Rick Scott filed a lawsuit Thursday against Broward election supervisor Brenda Snipes for allegedly refusing to tell them about votes she has not yet counted. The vote totals Snipes tabulated two days after the election would have readers believe that more people cast votes for agricultural commissioner than for U.S. Senator.
Additionally, lawyer Marc Elias of Perkins Coie — who hired Fusion GPS for the Democratic National Committee to investigate Donald Trump during the 2016 presidential election — has been hired to litigate a recount on behalf of Democrats.
The Republican National Committee also pointed out 12 times news stories using its own headlines where Snipes has "been outright incompetent and possibly criminal":
1 — Illegally destroying ballots (Sun Sentinel, May 14, 2018)
2 — Absentee ballots that never arrived (Miami Herald, November 6, 2018)
3 — Fellow Democrats accused her precinct of individual and systemic breakdowns that made it difficult for voters to cast regular ballots (Miami Herald, November 4, 2014)
4 — Posted election results half an hour before polls closed – a very clear violation of election law. (Miami Herald, November 2, 2018)
5 — Sued for leaving amendments off of ballots (Miami Herald, October 20, 2016)
6 — Claiming to not have the money to notify voters when their absentee ballot expired (Sun Sentinel, November 8, 2018)
7 — Having official staffers campaign on official time (Broward Beat, July 20, 2016)
8 — Problems printing mail ballots (Miami Herald, November 2, 2018)
9 — Accusations of ballot stuffing (Heritage, August 1, 2017)
10 — Voters receiving ballots with duplicate pages (Miami Herald, November 2, 2018)
A version of this article appeared on The Daily Caller News Foundation website.
ABOUT THE AUTHOR:

Reported by Justin Caruso |
A CNN chyron aired Thursday said Democrats who received mail bombs this week are "Trump's targets" — hours after an anchor insisted "no one's blaming the president."
"Manhunt For Serial Bomber Going After Trump's Targets" read the CNN chyron at about 1:13 PM. This came after another chyron that also referred to those targeted as "Trump Targets."
CNN's Wolf Blitzer ended the segment by saying, "The one common thread between all of these bombs–all of those who are being targeted are President Trump's frequent punching bags."
This segment came mere hours after CNN's John King opened up a panel discussion by stating: "No one's blaming the president. Is anyone blaming the president?"
And just one hour before this segment, the network's chyron suggested that Trump bears "responsibility" for "inciting" the perpetrator to send these packages — but alleges the president is not owning up to it.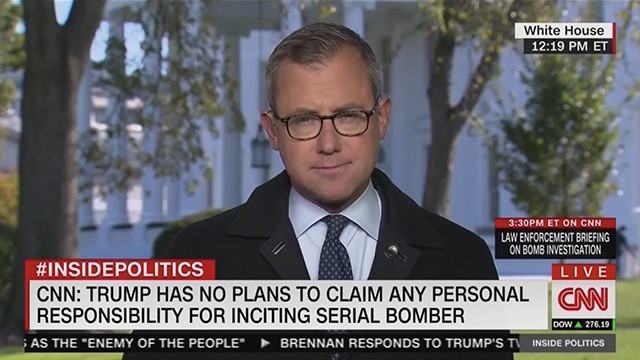 Although CNN personalities have repeatedly said that they are not blaming Trump or his supporters for the mail bombs, they have emphasized several times that those targeted by the bombs were frequently criticized by Trump and by right-wing media.
Brian Stelter said Wednesday that the targets of the bombs "have all been criticized mercilessly by right-wing outlets."
CNN analyst Josh Campbell also insisted Wednesday that Trump's rhetoric may still be to blame for the mail bombs, even if the perpetrator is mentally ill.
"If the package bomber turns out to be someone with mental health issues, that doesn't mean Pres. Trump is off the hook. If it turns out the bomber was motivated to kill perceived enemies based on recent heated political attacks by officials, those spewing hate share the blame," he said.