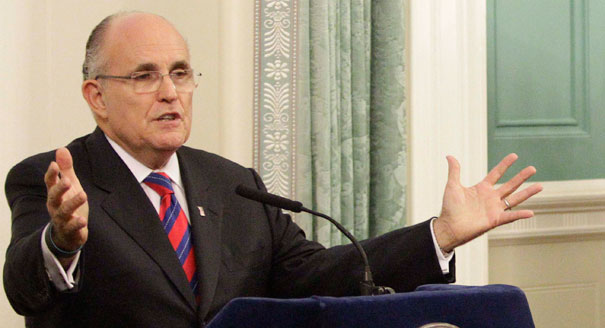 Rudy Giuliani said there are two ways the Trump legal team is getting a "major censorship" of its widespread voter fraud allegations. He told Newsmax on Friday that the Trump camp is equally focused on presenting evidence to state legislatures as it is on court hearings, but it is facing an uphill battle because of judges who won't hear the cases and media that won't air its presentations.
"We've got a lot of evidence. We don't have a lot of time," Giuliani said. "The public has only a small idea of the kind of evidence that we have."
The Trump legal team, led by Giuliani, and its allies have endured dozens of losses, and they are turning to presentations of witnesses to state legislatures in places such as Arizona and Michigan. The team had one such event in Gettysburg, Pennsylvania, this week, and the Trump team said a judge in Nevada will allow Republicans to present their findings at a hearing on Dec. 3.
As it stands now, President-elect Joe Biden has 306 Electoral College votes, and President Trump has 232. More than one state would have to flip for Trump to emerge as the winner. Time is running out as states are certifying their votes ahead of an Electoral College meeting in mid-December.
A federal appeals court in Philadelphia on Friday rejected Trump's latest bid to challenge the 2020 election results. However, Giuliani insisted that because the team got its presentation before GOP lawmakers, "in essence, we accomplished the purpose of that case." He added that the Supreme Court "can now take a look at it."
Pennsylvania Gov. Tom Wolf signed off on the certification of Biden as the winner of the state and its 20 electoral votes on Tuesday, but a Pennsylvania appeals court judge ordered state officials on Wednesday not to take any more steps toward certification as part of a separate lawsuit brought by Republican Rep. Mike Kelly and others trying to invalidate all mail-in ballots, which were mostly cast by Democrats. Wolf's administration asked the state Supreme Court to intervene.
In addition, dozens of GOP state lawmakers proposed a resolution on Friday disputing the 2020 election results.
The former New York City mayor also remarked on how media outlets gave coverage to Trump calling into the Pennsylvania presentation, but Giuliani claimed that if there were witnesses against Trump, "every single one of those witnesses would be on for days like they did during the phony impeachment hearings."