Posts tagged 'Faith'

Reported by DR. SUSAN BERRY |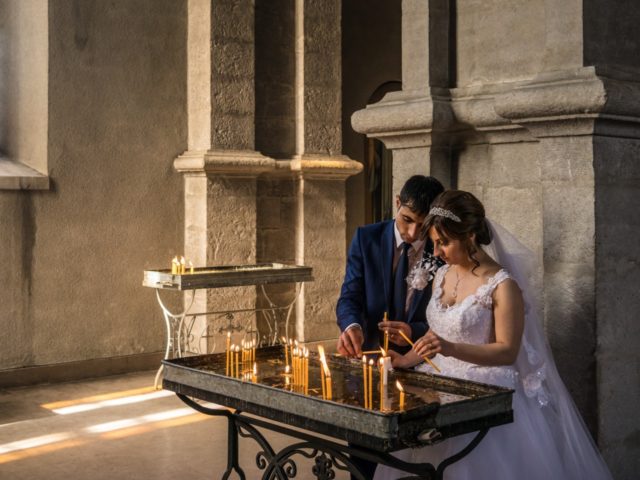 The authors of a new report about marriage, faith, and families found the happiest wives in America are those who are religious conservatives.
"Fully 73 percent of wives who hold conservative gender values and attend religious services regularly with their husbands have high-quality marriages," wrote researchers W. Bradford Wilcox, Jason S. Carroll and Laurie DeRose at the New York Times.
It turns out that the happiest of all wives in America are religious conservatives, followed by their progressive counterparts https://t.co/jaxXzMkEf7

— New York Times Opinion (@nytopinion) May 20, 2019
Their report, titled, "The Ties That Bind: Is Faith a Global Force for Good or Ill in the Family?" was published by the Institute for Family Studies and the Wheatley Institution.
"When it comes to relationship quality, there is a J-curve in women's marital happiness, with women on the left and the right enjoying higher quality marriages than those in the middle — but especially wives on the right," the authors explained.
They continued that American wives who are in the middle, both religiously and ideologically, as well as secular conservative wives, are less likely to experience high-quality marriages:
We suspect that part of their relative unhappiness, compared with religiously conservative women, is that they don't enjoy the social, emotional and practical support for family life provided by a church, mosque or synagogue. We also suspect that these groups are less likely to have husbands who have made the transition to the "new father" ideal that's gained currency in modern America — and they're not happy with their partner's disengagement.
Following behind religious conservative wives, 60 percent of highly religious progressive wives said they were "very happy."
Among secular liberal couples, 55 percent of married women reported above-average relationship quality, while 33 percent of women in traditional secular marriages reported the same.
According to the researchers, devoted husbands and fathers are at the center of American wives' view of happiness:
[I]n listening to the happiest secular progressive wives and their religiously conservative counterparts, we noticed something they share in common:

devoted family men

. Both feminism and faith give family men a clear code: They are supposed to play a big role in their kids' lives. Devoted dads are de rigueur in these two communities. And it shows: Both culturally progressive and religiously conservative fathers report high levels of paternal engagement.
The researchers' presentation of their report in the NYT editorial created a stir on social media with a fair amount of bitterness:
Can confirm what all the other Evangelicals are saying. Self-reporting on this is not a reflection of reality. Conservative women are taught that being anything other than happy is a spiritual and moral failure.

— Stephanie McCown (@Lunges_n_Lashes) May 20, 2019
You know absolutely about the repression of religious conservative women, huh?

I would have reported that I was "so happy" while I went back and forth planning my suicide. This is irresponsible reporting.

— Manic Aes Sedai Dream Girl (@RCruzyBee) May 20, 2019
I know Christians from having been in the evangelical church for 20 awful years of my life. Several different ones, different denominations. But all the same. Full of hate. Full of fear. Pretending everything is okay for fear that being ungrateful will make them lose everything.

— Dembai (Tracy Hilliard) (@LadyDembai) May 20, 2019
This is hilarious. They all asked their spouses if it was ok to answer the survey in the first place. Then they made it a dinner table conversation to make sure they answered the questions correctly. I know evangelicals. Women do not have separate lives.

— flick fifo (@atheistscott) May 20, 2019
Others responded more happily:
Yup, can confirm! A marriage centered around God with a foundation on His Word equals happiness..love it! pic.twitter.com/cEfCKua1Tb

— Chrissy (@chrissylou76) May 20, 2019
Where my mom and dad met. Married 65 happy years.

— jdkahler (@jdkahler) May 21, 2019
The Freedom from Religion Foundation and the ACLU must be high-fiving each other.
In a development that can't be heartening to the millions of America's faithful, new survey data shows the percentage of Americans who profess no religious belief is actually higher those who are part of the country's largest faith traditions. The trends might not be looking good right now, but there's a reason to hope.
According to the General Social Survey, which has been tracking American social trends since 1972, Americans who claim no religion — or "nones" — now outnumber Roman Catholics and evangelicals.
"'Nones' have been on the march for a long time now," Ryan P. Burge, a professor at Eastern Illinois University, told the National Catholic Reporter.

"It's been a constant, steady increase for 20 years now. If the trend line kept up, we knew this was going to happen."
According to the NCR, the percentage of American "nones" is now 23.1, up from 21.6 percent in 2016. That's only slightly ahead of Catholics, at 23 percent, and evangelicals, which were 22.5, down from 23.9 percent in 2016. The percentage is so small, considering the millions of individuals involved, it's probably statistically insignificant. The NCR calls the results "statistically tied."
But there's no denying it represents a change in American life — and the kind that could have a direct result on the country's politics.
NCR cited exit polls from the 2016 elections that white evangelicals made up 26 percent of the voters even if their share of the voting population wasn't that large.
"Evangelicals punch way above their weight," Burge said told NCR. "They turn out a bunch at the ballot box. That's largely a function of the fact that they're white and they're old."
That's one way to put it. One could also look at it like they're patriotic, committed, intelligent and aware that — as Americans — they're part of the rich history of a nation that's truly exceptional in world history. In other words, they're pretty much the opposite of the millennial America that is embodied by progressives like Alexandria Ocasio-Cortez and her fellow Democrat freshmen representatives.
So let's just stipulate that a future where the American electorate is made up of a lot fewer people like the voters who pushed Donald Trump over the top early on Nov. 9, 2016, and a lot more fans of AOC is likely to be a trying one for the country overall. But this has been coming for a long time. The General Social Survey numbers are almost to be expected if several factors are taken into account.
First and foremost, public schools have for decades been in the hands of an education establishment and leftist teachers unions that scorn traditional morality.

Secondly, our nation is saturated with an entertainment culture that celebrates individual narcissism and immorality while mocking virtually every expression of religious belief.

Finally, America's political culture is such that one of its two major political parties has been virtually a religion-free zone.
Combine these factors with the lawfare practiced by the likes of the ACLU and the cranky atheists of the Freedom from Religion Foundation — which target even the most innocent endearing expressions of religious faith in public life – and it's a wonder that numbers like this didn't show up ages ago.
And as Michael Knowles pointed out at The Daily Wire, it's probably no coincidence that the country is experiencing a level of social ills that it hasn't seen before.
"As religiosity has declined, social ills have abounded. Nearly one in five American adults suffers from anxiety disorders, which now constitute the most common mental illness in the country," Knowles wrote.

"One in six Americans takes antidepressant drugs, a 65% surge over just 15 years. The problem is particularly acute among younger Americans. While depression diagnoses have increased 33% since 2013, that number is up 47% among Millennials and 63% among teenagers. Coincidentally, suicide rates among American teenagers have increased by 70% since 2006. American life expectancy declined again last year, as Americans continue to drug and kill themselves at record rates."
Does anyone think it's just a coincidence that that happens when religious faith is failing? (And does anyone think it's a coincidence that all of this happening less than 60 years after the Supreme Court ruled that prayer in public schools was unconstitutional. Three generations of Americans have grown up in the world that helped create.) Now, no one can believe the members of the American Civil Liberties Union wake up in the morning wondering how they can contribute to more American suicides than they did yesterday. And no one thinks the Freedom from Religion wackos in Wisconsin are consciously setting out to increase the mental and spiritual health of their fellow citizens. (Though at Christmas time, it can be hard to tell.) And one might even be able to give the benefit of the doubt to the American education establishment (though Hollywood and the teachers unions will never deserve it).
But even the most willfully obtuse, deliberately blind individual member of the cultural elite has to see the wreckage that's being strewn across society by the large-scale abandonment of faith. And that might be a reason for hope.
The numbers might not be looking good at the moment, but it's the job of conservatives to try to turn that trend around. The election of President Donald Trump was a start in that process — and the developments it made possible, like the gradual return of sanity to the United States court system, will help.
But this is the long fight — the longest fight there is — and conservatives have to be willing to get into it. If they are in the fight — heart and soul — a setback or two in the numbers of the faithful are largely irrelevant in the long run. Conservatives have taken on long odds before and won — the news out of the White House every day proves it. They can do it again.
ABOUT THE AUTHOR:
A historic interfaith covenant was signed in the Middle East on Monday, and the mainstream media in the United States has been almost entirely silent about it.  Sheikh Ahmed al-Tayeb is considered to be the most important imam in Sunni Islam, and he arrived at the signing ceremony in Abu Dhabi with Pope Francis "hand-in-hand in a symbol of interfaith brotherhood".  But this wasn't just a ceremony for Catholics and Muslims.  According to a British news source, the signing of this covenant was done "in front of a global audience of religious leaders from Christianity, Islam, Judaism and other faiths"…
The pope and the grand imam of al-Azhar have signed a historic declaration of fraternity, calling for peace between nations, religions and races, in front of a global audience of religious leaders from Christianity, Islam, Judaism and other faiths.

Pope Francis, the leader of the world's Catholics, and Sheikh Ahmed al-Tayeb, the head of Sunni Islam's most prestigious seat of learning, arrived at the ceremony in Abu Dhabi hand-in-hand in a symbol of interfaith brotherhood.
In other words, there was a concerted effort to make sure that all of the religions of the world were represented at this gathering.
According to the official Vatican website, a tremendous amount of preparation went in to the drafting of this document, and it encourages believers from all religions "to shake hands, embrace one another, kiss one another, and even pray" with one another…
The document, signed by Pope Francis and the Grand Imam of al-Azhar, Ahmed el-Tayeb, was prepared "with much reflection and prayer", the Pope said. The one great danger at this moment, he continued, is "destruction, war, hatred between us." "If we believers are not able to shake hands, embrace one another, kiss one another, and even pray, our faith will be defeated", he said. The Pope explained that the document "is born of faith in God who is the Father of all and the Father of peace; it condemns all destruction, all terrorism, from the first terrorism in history, that of Cain."
There is a lot of language about peace in this document, but it goes way beyond just advocating for peace.
Over and over again, the word "God" is used to simultaneously identify Allah and the God of Christianity.  Here is just one example…
We, who believe in God and in the final meeting with Him and His judgment, on the basis of our religious and moral responsibility, and through this Document, call upon ourselves, upon the leaders of the world as well as the architects of international policy and world economy, to work strenuously to spread the culture of tolerance and of living together in peace; to intervene at the earliest opportunity to stop the shedding of innocent blood and bring an end to wars, conflicts, environmental decay and the moral and cultural decline that the world is presently experiencing.
On top of that, the document also boldly declares that "the diversity of religions" that we see in the world was "willed by God"…
Freedom is a right of every person: each individual enjoys the freedom of belief, thought, expression and action. The pluralism and the diversity of religions, colour, sex, race and language are willed by God in His wisdom, through which He created human beings. This divine wisdom is the source from which the right to freedom of belief and the freedom to be different derives. Therefore, the fact that people are forced to adhere to a certain religion or culture must be rejected, as too the imposition of a cultural way of life that others do not accept;
In essence, this is saying that it is the will of God that there are hundreds of different religions in the world and that they are all acceptable in His sight.
We know that the elite want a one world religion, but to see the most important clerics from both Catholicism and Islam make such a dramatic public push for it is absolutely stunning.
You can find the full text of the covenant that they signed on the official Vatican website.  I have also reproduced the entire document below…
—–
INTRODUCTION
Faith leads a believer to see in the other a brother or sister to be supported and loved. Through faith in God, who has created the universe, creatures and all human beings (equal on account of his mercy), believers are called to express this human fraternity by safeguarding creation and the entire universe and supporting all persons, especially the poorest and those most in need.
This transcendental value served as the starting point for several meetings characterized by a friendly and fraternal atmosphere where we shared the joys, sorrows and problems of our contemporary world. We did this by considering scientific and technical progress, therapeutic achievements, the digital era, the mass media and communications. We reflected also on the level of poverty, conflict and suffering of so many brothers and sisters in different parts of the world as a consequence of the arms race, social injustice, corruption, inequality, moral decline, terrorism, discrimination, extremism and many other causes.
From our fraternal and open discussions, and from the meeting that expressed profound hope in a bright future for all human beings, the idea of this Document on Human Fraternity was conceived. It is a text that has been given honest and serious thought so as to be a joint declaration of good and heartfelt aspirations. It is a document that invites all persons who have faith in God and faith in human fraternity to unite and work together so that it may serve as a guide for future generations to advance a culture of mutual respect in the awareness of the great divine grace that makes all human beings brothers and sisters.
DOCUMENT
In the name of God who has created all human beings equal in rights, duties and dignity, and who has called them to live together as brothers and sisters, to fill the earth and make known the values of goodness, love and peace;
In the name of innocent human life that God has forbidden to kill, affirming that whoever kills a person is like one who kills the whole of humanity, and that whoever saves a person is like one who saves the whole of humanity;
In the name of the poor, the destitute, the marginalized and those most in need whom God has commanded us to help as a duty required of all persons, especially the wealthy and of means;
In the name of orphans, widows, refugees and those exiled from their homes and their countries; in the name of all victims of wars, persecution and injustice; in the name of the weak, those who live in fear, prisoners of war and those tortured in any part of the world, without distinction;
In the name of peoples who have lost their security, peace, and the possibility of living together, becoming victims of destruction, calamity and war;
In the name of human fraternity that embraces all human beings, unites them and renders them equal;
In the name of this fraternity torn apart by policies of extremism and division, by systems of unrestrained profit or by hateful ideological tendencies that manipulate the actions and the future of men and women;
In the name of freedom, that God has given to all human beings creating them free and distinguishing them by this gift;
In the name of justice and mercy, the foundations of prosperity and the cornerstone of faith;
In the name of all persons of good will present in every part of the world;
In the name of God and of everything stated thus far; Al-Azhar al-Sharif and the Muslims of the East and West, together with the Catholic Church and the Catholics of the East and West, declare the adoption of a culture of dialogue as the path; mutual cooperation as the code of conduct; reciprocal understanding as the method and standard.
We, who believe in God and in the final meeting with Him and His judgment, on the basis of our religious and moral responsibility, and through this Document, call upon ourselves, upon the leaders of the world as well as the architects of international policy and world economy, to work strenuously to spread the culture of tolerance and of living together in peace; to intervene at the earliest opportunity to stop the shedding of innocent blood and bring an end to wars, conflicts, environmental decay and the moral and cultural decline that the world is presently experiencing.
We call upon intellectuals, philosophers, religious figures, artists, media professionals and men and women of culture in every part of the world, to rediscover the values of peace, justice, goodness, beauty, human fraternity and coexistence in order to confirm the importance of these values as anchors of salvation for all, and to promote them everywhere.
This Declaration, setting out from a profound consideration of our contemporary reality, valuing its successes and in solidarity with its suffering, disasters and calamities, believes firmly that among the most important causes of the crises of the modern world are a desensitized human conscience, a distancing from religious values and a prevailing individualism accompanied by materialistic philosophies that deify the human person and introduce worldly and material values in place of supreme and transcendental principles.
While recognizing the positive steps taken by our modern civilization in the fields of science, technology, medicine, industry and welfare, especially in developed countries, we wish to emphasize that, associated with such historic advancements, great and valued as they are, there exists both a moral deterioration that influences international action and a weakening of spiritual values and responsibility. All this contributes to a general feeling of frustration, isolation and desperation leading many to fall either into a vortex of atheistic, agnostic or religious extremism, or into blind and fanatic extremism, which ultimately encourage forms of dependency and individual or collective self-destruction.
History shows that religious extremism, national extremism and also intolerance have produced in the world, be it in the East or West, what might be referred to as signs of a "third world war being fought piecemeal". In several parts of the world and in many tragic circumstances these signs have begun to be painfully apparent, as in those situations where the precise number of victims, widows and orphans is unknown. We see, in addition, other regions preparing to become theatres of new conflicts, with outbreaks of tension and a build-up of arms and ammunition, and all this in a global context overshadowed by uncertainty, disillusionment, fear of the future, and controlled by narrow-minded economic interests.
We likewise affirm that major political crises, situations of injustice and lack of equitable distribution of natural resources – which only a rich minority benefit from, to the detriment of the majority of the peoples of the earth – have generated, and continue to generate, vast numbers of poor, infirm and deceased persons. This leads to catastrophic crises that various countries have fallen victim to despite their natural resources and the resourcefulness of young people which characterize these nations. In the face of such crises that result in the deaths of millions of children – wasted away from poverty and hunger – there is an unacceptable silence on the international level.
It is clear in this context how the family as the fundamental nucleus of society and humanity is essential in bringing children into the world, raising them, educating them, and providing them with solid moral formation and domestic security. To attack the institution of the family, to regard it with contempt or to doubt its important role, is one of the most threatening evils of our era.
We affirm also the importance of awakening religious awareness and the need to revive this awareness in the hearts of new generations through sound education and an adherence to moral values and upright religious teachings. In this way we can confront tendencies that are individualistic, selfish, conflicting, and also address radicalism and blind extremism in all its forms and expressions.
The first and most important aim of religions is to believe in God, to honour Him and to invite all men and women to believe that this universe depends on a God who governs it. He is the Creator who has formed us with His divine wisdom and has granted us the gift of life to protect it. It is a gift that no one has the right to take away, threaten or manipulate to suit oneself. Indeed, everyone must safeguard this gift of life from its beginning up to its natural end. We therefore condemn all those practices that are a threat to life such as genocide, acts of terrorism, forced displacement, human trafficking, abortion and euthanasia. We likewise condemn the policies that promote these practices.
Moreover, we resolutely declare that religions must never incite war, hateful attitudes, hostility and extremism, nor must they incite violence or the shedding of blood. These tragic realities are the consequence of a deviation from religious teachings. They result from a political manipulation of religions and from interpretations made by religious groups who, in the course of history, have taken advantage of the power of religious sentiment in the hearts of men and women in order to make them act in a way that has nothing to do with the truth of religion. This is done for the purpose of achieving objectives that are political, economic, worldly and short-sighted. We thus call upon all concerned to stop using religions to incite hatred, violence, extremism and blind fanaticism, and to refrain from using the name of God to justify acts of murder, exile, terrorism and oppression. We ask this on the basis of our common belief in God who did not create men and women to be killed or to fight one another, nor to be tortured or humiliated in their lives and circumstances. God, the Almighty, has no need to be defended by anyone and does not want His name to be used to terrorize people.
This Document, in accordance with previous International Documents that have emphasized the importance of the role of religions in the construction of world peace, upholds the following:
– The firm conviction that authentic teachings of religions invite us to remain rooted in the values of peace; to defend the values of mutual understanding, human fraternity and harmonious coexistence; to re-establish wisdom, justice and love; and to reawaken religious awareness among young people so that future generations may be protected from the realm of materialistic thinking and from dangerous policies of unbridled greed and indifference that are based on the law of force and not on the force of law;
– Freedom is a right of every person: each individual enjoys the freedom of belief, thought, expression and action. The pluralism and the diversity of religions, colour, sex, race and language are willed by God in His wisdom, through which He created human beings. This divine wisdom is the source from which the right to freedom of belief and the freedom to be different derives. Therefore, the fact that people are forced to adhere to a certain religion or culture must be rejected, as too the imposition of a cultural way of life that others do not accept;
– Justice based on mercy is the path to follow in order to achieve a dignified life to which every human being has a right;
– Dialogue, understanding and the widespread promotion of a culture of tolerance, acceptance of others and of living together peacefully would contribute significantly to reducing many economic, social, political and environmental problems that weigh so heavily on a large part of humanity;
– Dialogue among believers means coming together in the vast space of spiritual, human and shared social values and, from here, transmitting the highest moral virtues that religions aim for. It also means avoiding unproductive discussions;
– The protection of places of worship – synagogues, churches and mosques – is a duty guaranteed by religions, human values, laws and international agreements. Every attempt to attack places of worship or threaten them by violent assaults, bombings or destruction, is a deviation from the teachings of religions as well as a clear violation of international law;
– Terrorism is deplorable and threatens the security of people, be they in the East or the West, the North or the South, and disseminates panic, terror and pessimism, but this is not due to religion, even when terrorists instrumentalize it. It is due, rather, to an accumulation of incorrect interpretations of religious texts and to policies linked to hunger, poverty, injustice, oppression and pride. This is why it is so necessary to stop supporting terrorist movements fuelled by financing, the provision of weapons and strategy, and by attempts to justify these movements even using the media. All these must be regarded as international crimes that threaten security and world peace. Such terrorism must be condemned in all its forms and expressions;
– The concept of citizenship is based on the equality of rights and duties, under which all enjoy justice. It is therefore crucial to establish in our societies the concept of full citizenship and reject the discriminatory use of the term minorities which engenders feelings of isolation and inferiority. Its misuse paves the way for hostility and discord; it undoes any successes and takes away the religious and civil rights of some citizens who are thus discriminated against;
– Good relations between East and West are indisputably necessary for both. They must not be neglected, so that each can be enriched by the other's culture through fruitful exchange and dialogue. The West can discover in the East remedies for those spiritual and religious maladies that are caused by a prevailing materialism. And the East can find in the West many elements that can help free it from weakness, division, conflict and scientific, technical and cultural decline. It is important to pay attention to religious, cultural and historical differences that are a vital component in shaping the character, culture and civilization of the East. It is likewise important to reinforce the bond of fundamental human rights in order to help ensure a dignified life for all the men and women of East and West, avoiding the politics of double standards;
– It is an essential requirement to recognize the right of women to education and employment, and to recognize their freedom to exercise their own political rights. Moreover, efforts must be made to free women from historical and social conditioning that runs contrary to the principles of their faith and dignity. It is also necessary to protect women from sexual exploitation and from being treated as merchandise or objects of pleasure or financial gain. Accordingly, an end must be brought to all those inhuman and vulgar practices that denigrate the dignity of women. Efforts must be made to modify those laws that prevent women from fully enjoying their rights;
– The protection of the fundamental rights of children to grow up in a family environment, to receive nutrition, education and support, are duties of the family and society. Such duties must be guaranteed and protected so that they are not overlooked or denied to any child in any part of the world. All those practices that violate the dignity and rights of children must be denounced. It is equally important to be vigilant against the dangers that they are exposed to, particularly in the digital world, and to consider as a crime the trafficking of their innocence and all violations of their youth;
– The protection of the rights of the elderly, the weak, the disabled, and the oppressed is a religious and social obligation that must be guaranteed and defended through strict legislation and the implementation of the relevant international agreements.
To this end, by mutual cooperation, the Catholic Church and Al-Azhar announce and pledge to convey this Document to authorities, influential leaders, persons of religion all over the world, appropriate regional and international organizations, organizations within civil society, religious institutions and leading thinkers. They further pledge to make known the principles contained in this Declaration at all regional and international levels, while requesting that these principles be translated into policies, decisions, legislative texts, courses of study and materials to be circulated.
Al-Azhar and the Catholic Church ask that this Document become the object of research and reflection in all schools, universities and institutes of formation, thus helping to educate new generations to bring goodness and peace to others, and to be defenders everywhere of the rights of the oppressed and of the least of our brothers and sisters.
In conclusion, our aspiration is that:
this Declaration may constitute an invitation to reconciliation and fraternity among all believers, indeed among believers and non-believers, and among all people of good will;
this Declaration may be an appeal to every upright conscience that rejects deplorable violence and blind extremism; an appeal to those who cherish the values of tolerance and fraternity that are promoted and encouraged by religions;
this Declaration may be a witness to the greatness of faith in God that unites divided hearts and elevates the human soul;
this Declaration may be a sign of the closeness between East and West, between North and South, and between all who believe that God has created us to understand one another, cooperate with one another and live as brothers and sisters who love one another.
This is what we hope and seek to achieve with the aim of finding a universal peace that all can enjoy in this life.
Abu Dhabi, 4 february 2019
His Holiness
Pope Francis
The Grand Imam of Al-Azhar
Ahmad Al-Tayyeb

Reported By Benjamin Arie | December 9, 2018 at 5:22pm
A widely respected teacher in Virginia is out of a job and his family now has no income after he committed the gravest of politically-incorrect sins: He used the word "she" to refer to a girl.
On Thursday, Peter Vlaming was released from his teaching position at West Point High School after all five board members voted that his objection to using male pronouns for a female student was a fireable offense.
According to WRIC News, a girl at that school decided that she is transgender, and insisted that everyone call her by a new name. Vlaming had no problem with this, but drew the line at saying "him" and "his" to refer to a student who is biologically female. The teacher and students who know him explained that this wasn't about purposely insulting the transgender person, but rather about being honest and true to his personal beliefs.
"My religious faith dictates that I am to love and respect everyone, whether I agree with them or not. Because we are all made in God's image," Vlaming said in an opening statement at the board meeting which decided his fate.

"I am also aware of, and agree, with speech limits that are placed on public school teachers, concerning matters of religious faith," the teacher continued. "However, we are here today because a specific worldview is being imposed upon me."
By all accounts, the teacher tried to accommodate the trans student in many ways but does not believe his faith or personal code permits him to pretend that a girl is now a boy.
Advertisement – story continues below
"I won't use male pronouns with a female student that now identifies as a male though I did agree to use the new masculine name but avoid female pronouns," Vlaming said, according to an online petition that circulated to protect his job. Over 2,500 people sided with him.

"Administration is requiring that I use masculine pronouns in any and every context at school. I was informed that any further instances of using female pronouns would be grounds for termination," the teacher continued.
For their part, the school is claiming that it's an issue of tolerance … yet they seem to be demonstrating intolerance themselves.
"We do not and cannot tolerate discrimination in any form, or actions that create a hostile environment for any member of our school family," declared the school board.
It apparently didn't dawn on them that firing a member of their "school family" for his personal views was fairly hostile.
Advertisement – story continues below
"What could be worse for your family than being fired from your job for not lying and violating conscience?" wondered Robert A. J. Gagnon, a Harvard-educated theology expert who is following the controversy.
A large number of students and parents apparently agree. "The public hearing was held in the Chorus Room, only allowing 38 members of the public to sit in on the meeting," explained The Family Foundation.
"There were well over a hundred people who tried to attend the meeting in the middle of a Thursday afternoon. Students and parents sat in the hallway watching a live-stream of the hearing when they learned they could not get into the room," the pro-family group continued.
Here's the bottom line: Schools are supposed to be places where facts, reality, and critical thinking are held up as high standards. Young and often rebellious students should have a voice, but they are not the ones who run our schools.
The female student can still be treated with respect, as this teacher reportedly tried to do. She can still choose for herself how she wants to live outside of the school and make choices for herself when she's an adult graduate.
But the reality is that this student is biologically a female, try as she might to pretend otherwise. Forcing the rest of the school and society as a whole to bend to her whims is not only contradicting scientific facts, it imposes her views onto other people. In a word, it's dishonest.
ABOUT THE AUTHOR: 
If people really understood the intensity of God's love for them, the world would be an entirely different place today…
Chris Tomlin's new song, "Nobody Loves Me Like You," captures a fraction of that intensity. The chorus of the song ends with the words, "Your love invades, and I brace for the impact."
The song will be on his new album, Holy Roar, set for release on October 26th. For concert information … or to sign up for his newsletter … visit Chris Tomlin's website here.
Watch the official music video of "Nobody Loves Me Like You" (4:43): http://www.coolestone.com/media/20206/Chris-Tomlin—Nobody-Loves-Me-Like-You-(Official-Music-Video)/#.W8Nw90DeDcs
Share the video with some friends who need a reminder of how much God loves them.
Republican Sen. Ted Cruz of Texas praised the Trump administration Thursday for seven major victories he said it accomplished "for faith, for family — for the values that we share." Cruz made the remarks at the 2018 Road to Majority conference hosted by the Faith & Freedom Coalition.
He lauded the current presidential administration for making significant advances for the protection of religious liberty, individual rights concerning education and family, the defense of the unborn and foreign policy that reversed Obama-era deals.
"Let's start with number one — judges," Cruz said. "Principled, constitutionalist judges."
Cruz mentioned the Trump administration's victory concerning the nation's courts with the appointment of Justice Neil Gorsuch, as well as the Supreme Court's recent ruling in the Colorado bakery case.
"The so-called Colorado Civil Rights Commission demonstrated an antipathy, an animosity to faith that was visceral," Cruz said. The Supreme Court, however, ruled that "you cannot discriminate against religious faith," he added, instead of ruling they must be forced to violate their consciences.

"That is not narrow," Cruz added. "That is a bedrock principle of our First Amendment and of our nation."

"A second victory concerns life," Cruz continued, lauding the Trump administration's "return of the Mexico City rules," which prevented the U.S. from providing foreign aid to fund abortions in other countries.
Other facets of the administration's victory for life, according to Cruz, include the new Health and Human Services rules preventing tax funding for health clinics that provide abortions, as well as the dismissal of the litigation against the Little Sisters of the Poor and the repeal of the "abhorrent so-called contraceptive mandate in Obamacare."
"Here's a really good rule of thumb," Cruz said. "If you're litigating against nuns, you've probably done something wrong. It's a wonderfully reliable checklist."
The third victory for Cruz was the historic tax cut Congress passed in December, which he said provided more money for the majority of American citizens by "cutting taxes on small businesses, cutting taxes on farmers, cutting taxes on families."
Cruz then advocated for the implementation of a flat tax and declared Americans "should abolish the IRS."
The Trump administration scored a fourth victory, according to Cruz, with the repeal of the Obamacare individual mandate. He acknowledged, however, that the repeal of the Affordable Care Act was "the Republican Party's biggest unkept promise" and urged the party to keep fighting for that outcome.
The final three victories Cruz said the Trump administration achieved for the nation and its values were the passage of "school choice" legislation, Trump's decision to move the U.S. embassy in Israel to Jerusalem and Trump's "right decision to withdraw from the disastrous Obama Iran nuclear deal."
"Seven victories and more to come," Cruz said in closing.
A version of this article appeared on The Daily Caller News Foundation website. Content created by The Daily Caller News Foundation is available without charge to any eligible news publisher that can provide a large audience. For licensing opportunities of our original content, please contact licensing@dailycallernewsfoundation.org.