Reported by DAVE URBANSKI | December 22, 2021
Read more at https://www.conservativereview.com/atheist-activists-want-bible-verse-scrubbed-from-sheriff-s-office-wall-but-sheriff-refuses-to-back-down-2656091967.html/
If the Freedom from Religion Foundation thinks it can pressure Sheriff Jody Greene into scrubbing a beloved Bible verse from his office wall, Greene is telling the atheist activist group that it has sorely underestimated his resolve.
"Just look at where our society is headed," Greene wrote Monday on the Columbus County, North Carolina, Sheriff's Office Facebook page. "It is time, past time, to stand up. So let me be clear, I will not waiver [sic] on my stance and Christian beliefs."
FFRF representatives said "a concerned citizen" told them Greene had the verse, Philippians 4:13 — "I can do all things through Christ which strengtheneth me" — prominently displayed in his office in Whiteville, which is about 115 miles south of downtown Raleigh, the News & Observer reported.
Greene has an "obligation to provide all citizens with an environment free from religious endorsement by removing this exclusionary display," the FFRF said in a Dec. 14 news release, the paper reported. What's more, the FFRF is demanding the verse be taken off the wall — and is hinting at legal action if its demand isn't met, the News & Observer said.
"The Columbus County Sheriff's Office must serve all citizens equally, whether Christian or non-Christian," FFRF co-president Annie Laurie Gaylor added in the release, the paper noted. "A blatantly Christian message in a law enforcement division sends a message of exclusion."
In addition to telling the FFRF he won't comply with its demands, Greene also wrote on his Facebook post that the Bible verse display "was paid for with private funds, not with county funding. The verse is one of my favorite Bible verses, and it seemed fitting for all the adversity I have had to endure. It is very motivational to me and my staff. Here at the Sheriff's Office, we work hard in everything that we do. Before we execute a search warrant, or any service that puts our people in immediate harms [sic] way, we ALWAYS go to the Lord with a group prayer. ALWAYS!"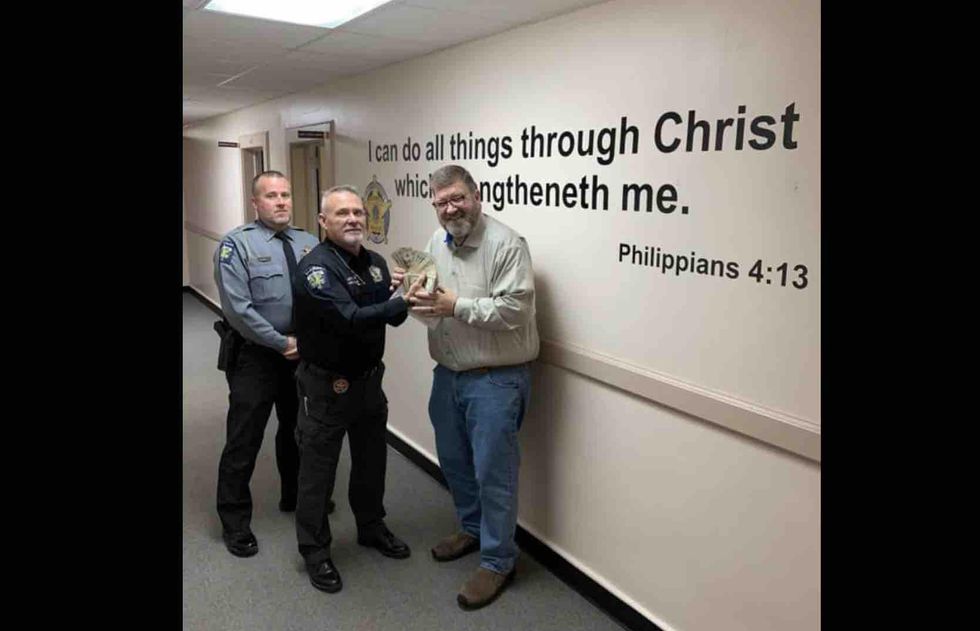 He added: "I was raised in church. I have been in law enforcement for over thirty years. My training taught me to value God, family, and my country. Going back to the Bible verse, I have taken many pictures with that Bible verse in the backdrop with not a single issue, but now that we are going into an election year, it is an issue. How absurd! It seems to me we have a few sheep in wolves [sic] clothing. That's all. This is a political ploy. Some want a person that they can control. Companies spend thousands of dollars on motivational classes, to come up with motivational slogans. My motivation comes from the greatest motivational speaker of all times, Jesus Christ."
Chris Line, an FFRF staff attorney, said he was disappointed by the sheriff's refusal to remove the Bible verse, WECT-TV reported.
"Right on the front page of the Sheriff's Office's website, it says, 'We are dedicated to protecting the innocent and safeguarding lives and property, while always respecting the constitutional rights of others,'" Line told the station.

He added to WECT that "it is a shame that the Sheriff's Office isn't willing to live up to that, and instead they are choosing to violate their citizens' constitutional rights by brazenly endorsing Christianity. The Sheriff's Office serves all citizens regardless of belief or nonbelief, and this display alienates all of Columbus County's non-Christian residents."
Columbus County Attorney Amanda Prince wouldn't comment to the station in regard to the legality of the Bible verse display: "I cannot give you a legal opinion regarding this matter."