Posts tagged 'COVID'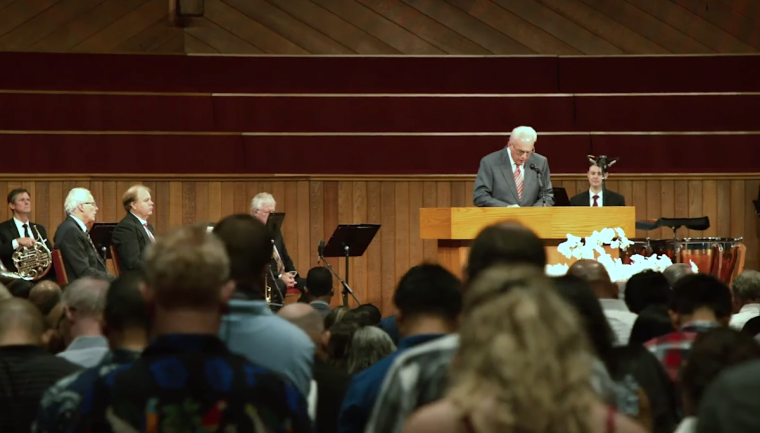 Public health officials in Los Angeles have lifted all outbreak-related requirements and restrictions on Grace Community Church, which were put in place last month after three cases connected to the California church were confirmed.
"We are glad to announce that we received a notice from the Los Angeles County Department of Public Health … saying that we have been cleared of COVID-19 outbreak," the church says on its website.
L.A. County requires places of worship to report to the Public Health Department when there are at least three COVID-19 cases within a span of two weeks, after which the agency determines whether there is an outbreak.
"After a thorough investigation, Public Health officials have decided to rescind all outbreak-related requirements and restrictions on Grace Community Church," the church, led by Pastor John MacArthur, said.

"Praise the Lord for His blessings and perfect provision. Thank you, Pastor John, for your example as you have walked this road," a church member, Matt Mckinney, wrote on Grace Community's Facebook page. "Your humble and unwavering strength, anchored in your trust of the Lord's sovereignty to work this out to the counsel of His own will, for His own purposes and glory, are such an encouragement. Blessings my brother."
Thousands of people have been attending the Sun Valley, California, church after it reopened in the summer despite restrictions on indoor worship services during the coronavirus pandemic. MacArthur and elders of the church said it was the church's biblical duty to remain open and that they would not disobey "our Lord's clear commands."
The church has also argued that in the many months it's been open, no one had been hospitalized with the disease.
In response to the three confirmed cases last month, Jenna Ellis, attorney for the church, said it was not an "outbreak," given the more than 7,000 people who attend.
"It has never been the church's position that it is only safe to hold services if no one ever tests positive, or for example, if no one ever gets the flu during flu season. Our position has been that LA County shutting down churches indefinitely amid a virus with a 99.98% survival rate, especially when state-preferred businesses are open and protests are held without restriction, is unconstitutional and harmful to the free exercise of religion," she said.
Indoor worship services are currently banned in Los Angeles County, which has a Tier 1 status (when COVID-19 is "widespread"). Congregations are only allowed to meet outdoors with certain restrictions.
Grace Community Church and Pastor MacArthur have been in a legal battle with the county over the restrictions.
"They don't want us to meet, that's obvious," MacArthur said after the county secured a stay of the trial court ruling in August that would have allowed the congregation to meet indoors with masks and social distancing.

"They're not willing to work with us. They just want to shut us down. But we're here to bring honor to the Lord." 
MacArthur said he didn't know "exactly what the city is trying to do with us and to us," and clarified that the indoor service was not aimed at being "rebellious." "We're meeting because our Lord has commanded us to come together and worship Him."
The church's attorneys argued that the county's demands to comply with COVID-19 restrictions were unreasonable. The church offered to have the congregation comply with mask-wearing and social distancing indoors until the matter could be fully heard.
At the start of the pandemic earlier this year, Grace Community Church initially moved to a livestream model and closed down in-person services. But within a few weeks, MacArthur said parishioners started showing up again. They decided to restart in-person worship services, with church leaders saying that the government did not have the authority to stop them from gathering.
I can't tell you how many texts I've received this week from friends and acquaintances across the country asking—usually in all-caps and peppered with profanity—what is going on in Pennsylvania? As a native Philadelphian, and from my current vantage in politically coveted Bucks County, I can see why Americans are demanding answers.
Ballots can be counted up to three days after Election Day? Mailed ballots with no postmark still qualify? Unsupervised drop boxes scattered across cities are entrusted to secure tens of thousands of votes?
Sadly, it's all true. None of these practices inspires confidence that the standard of "one person, one vote" is being upheld. Nor were these practices valid in any prior general election in Pennsylvania.
Scratching your head as to why we chose the most consequential election in our lifetimes to run an experiment? Here's what I've told my friends: the experiment was a wild success—once you understand that the chaos we're witnessing was the plan all along, carefully orchestrated by Pennsylvania Democrats, including the governor, party activists, and the state Supreme Court. Here's how it happened.
In Pennsylvania, Democrat Gov. Tom Wolf used the COVID-19 pandemic as cover for hurrying through new voting rules that bypassed reasonable deadlines or restrictions. The result? Many voters now have deep suspicion about wide-scale voter fraud in Philadelphia.
Republicans and Democrats have long understood the problems with mass mail-in ballots. The usual stages of ballot security are lost: unlike absentee ballots, some people are claiming they received unsolicited mail-in ballots, a practice Pennsylvania does not allow. Could it be ballots are being illegally sent or is it simply that voters forgot they signed up to get them?
Worse, it's impossible to ensure the ballot is filled out by the voter or with her approval. And when the ballot is submitted, the chain of custody observing that ballot is broken. It's a recipe for contested election results.
The seeds of public distrust were sowed in June, when Wolf decreed by executive order that mail-in ballots in the primary election could trickle in from certain counties for an extra week. The state Democratic Party followed up in July by suing to similarly extend the general election deadline for mail-in ballots. Their suit also sought to allow unprecedented "drop boxes" to collect mail-ins and to limit the number of election observers.
Wolf's administration then asked the state's elected Supreme Court, which is 5-2 Democratic-majority and has become notorious for partisan rulings, to grant all the Democrats' requests—and they did on Sep. 17. The court went further than expected, granting the Democrats' deadline extension, approving drop boxes and satellite "election offices" for ballot collection, and even ruling that postmarks could not be used to verify when ballots had been mailed.
In addition, the court removed the Green Party presidential candidate's name from the state ballot over a technicality, a move that may have shifted Green Party votes to Joe Biden's camp. In their decision, the justices acknowledged that the new deadline violated state law but claimed that "in light of the current COVID-19 pandemic" such laws could be dismissed.
It got worse. Sensing an opportunity, the Wolf administration pronounced that county officials "are prohibited from rejecting absentee or mail-in ballots based on signature comparison." On Oct. 23, not long before Election Day, the court approved this last nail in the coffin of election integrity.
On Thursday, Republican Sen. Pat Toomey expressed concern about these unprecedented rule changes that fueled this week's chaos, making clear that free and fair elections aren't a partisan issue. Now, the U.S. Supreme Court will have to rule.
But on Oct. 28, the Supreme Court postponed any decision with a 4-4 ruling—excluding newly appointed justice Amy Coney Barrett—that returned the case to its court of origin. At the time, Justice Samuel Alito noted that it is likely "that the state Supreme Court decision violates the Federal Constitution," opening a possibility that the justices will review the case post-election, with the potential outcome of eliminating thousands of illegal ballots.
On Friday, GOP state House Speaker Bryan Cutler, who noted that the election "confusion is a direct result of the court decisions," called for a full audit before any certification of the results. Cutler also cited Pennsylvania's 100,000 provisional ballots—cast when a voter's eligibility is in question—that further indicated problems with the mail-in system.
Elections decided by the courts is a nightmare scenario for either political party. But Wolf refused to reform the state's election procedures in concert with the legislature. In October, GOP lawmakers proposed compromise legislation, House Bill 2626, that included several, but not all, of the governor's proposed changes to Pennsylvania voting laws. Wolf threatened to veto their bill in an all-or-nothing negotiation standoff.
To prevent a future election debacle in Pennsylvania, we need election integrity reform through the normal legislative process. Only legal votes should be counted, and controls should be put in place—like polling place verification and absentee ballot chain-of-custody at every stage.
But Democrats have resisted these reforms for years, creating the present chaos. The U.S. Supreme Court must respond accordingly and assure Pennsylvanians that their election was fair—regardless of the presidential outcome.
Jennifer Stefano is chief innovation officer and vice president at the Commonwealth Foundation, Pennsylvania's free market think tank.
Why is the press and officialdom suddenly shrieking about "herd immunity"? On Oct. 12, World Health Organization Director-General Tedros Adhanom Ghebreyesus said pursuing herd immunity is "unethical." Within hours, most of the media broadcast the same message. It's as though someone sent out a list of talking points.
"Sweden's experiment with herd immunity is unethical and undemocratic," Australia's ABC intoned, "and reveals an underlying political pathology." According to Fortune, herd immunity against SARS-CoV2 is a "myth."
Time called Sweden's coronavirus response a "disaster." "From early on," the magazine claimed, "the Swedish government seemed to treat it as a foregone conclusion that many people would die." The Washington Post is claiming that herd immunity is now the White House's "strategy," supposedly on advice from White House advisor Scott Atlas.
"Herd immunity is achieved by protecting people from a virus," claimed the head of WHO, "not by exposing them to it." According to him, "Never in the history of public health has herd immunity been used as a strategy for responding to an outbreak, let alone a pandemic."
This is misleading. First, herd immunity is all about exposure. A study of nearly 6,000 individuals out Oc. 13 finds that, outside one outlier, the COVID-positive patients sampled retained their immunity to the disease for at least five to seven months, the duration of the study. After enough people get and recover from an infection, the virus loses most of its routes for new infections. Indeed, the main purpose of the annual flu vaccine is to speed up herd immunity by reducing the number of susceptible people. Just as huddling inside in the winter helps spread flu, and thereby pneumonia, so herd immunity helps bring down death rates in the summer.
Second, herd immunity isn't so much a strategy as a fact of life when dealing with infectious agents like the coronavirus. Even the Time article that lambasted Sweden admits that it's not quite fair to say the Nordic country pursued a herd immunity "strategy." Rather, it had an anti-lockdown policy. Still, any strategy that ignores herd immunity is foolish, since that is precisely how infection rates fall in pandemics.
So why the renewed furor over herd immunity? We suspect it's really aimed at the thousands of scientists and medical practitioners who have signed the Great Barrington Declaration, which invokes the term favorably.
For lockdown partisans in the press and Big Tech, the declaration is a clear and present danger. They're working hard to suppress it. After all, it refutes the narrative that all scientists agree with the lockdowns. Its three principal authors hail from Stanford, Harvard, and Oxford universities. They have as many scientific chops as any of the lockdown partisans.
So the media have done everything they can, first to ignore, and then to tar, feather, and misrepresent the scientists who organized this effort. The campaign against a supposed "herd immunity strategy," or what some call the "let people die" approach, is really a proxy war against the declaration.
Other, pro-lockdown scientists have now responded to the Great Barrington Declaration with the "John Snow Memorandum," published in The Lancet on Oct. 14. Predictably, Dr. Anthony Fauci, when asked about the declaration, called it "dangerous" and "nonsense."
This looks like a smear campaign designed to prevent Americans, including the president, from hearing the scientific case against the lockdowns. That's much easier to do if the public thinks the only alternative is letting people die. But the scientists behind the Great Barrington advocate nothing like that. They call for focused protection, a strategy that confers the greatest benefits with the fewest costs. These scientists argue that population-wide lockdowns are all pain and little gain. They also know that we're going to reach herd immunity at some point whatever our approach. How much damage we cause in the meantime is the question.
Finally, they know that the elderly are about 1,000 times more at risk of death from COVID-19 than the young. Therefore, they argue, we should end the disastrous lockdowns, focus on protecting the most vulnerable, treat those who get sick with all the tools in our arsenal — including those President Trump received — and let immunity build up among those with very little risk.
This wasn't the initial Swedish approach. That country failed to protect and sequester nursing homes, which were the source of most Swedish deaths.
The alternative is to keep pressing lockdowns, no matter the cost in lives and wellbeing, until a vaccine is available for all. That should be a non-starter. In our new book "The Price of Panic: How the Tyranny of Experts Turned a Pandemic into a Catastrophe," we show that the forced lockdowns had no discernable effect on the spread of the coronavirus. Worse, they will kill more people than the virus itself.
The Great Barrington Declaration has it right. And so does President Trump. But he has not yet clearly embraced the science and the many scientists who can provide the scientific heft behind this policy. That policy is focused protection. It is the most ethical and rational choice. The media campaign against "herd immunity" is a cynical effort to keep this approach from gaining traction.