Reported By Grant Atkinson | November 30, 2021
Read more at https://www.westernjournal.com/twitter-users-notice-big-mistake-bidens-made-stockings-white-house-fireplace/
First lady Jill Biden revealed the 2021 White House Christmas decorations on Monday, and the State Dining Room was adorned with stockings above the mantel. But there was one blatant problem with the decor.
According to Daily Mail reporter Emily Goodin, the stockings were meant to represent the Bidens' grandchildren, with each one having the name of a different grandchild.
However, Twitter users quickly noticed a glaring omission from the mantle. Only six stockings hung above the fireplace despite the fact that President Joe Biden has seven grandchildren.
According to Marie Claire, Biden has three granddaughters from his son Hunter: Naomi, Finnegan and Maisy.
He has two more grandchildren from his late son, Beau: Natalie and Robert, who goes by Hunter after his uncle.
So who is Biden's seventh grandchild? That would be Hunter Biden's son with adult entertainer Lunden Alexis Roberts. The boy was born in 2018 and Hunter was proven to be the father in 2020, according to Marie Claire.
So that makes a total of seven grandchildren, one more than the number of stockings on the mantle.
Multiple people pointed out the omission on Twitter, including reporter Amber Athey of The Spectator.
Despite this seemingly obvious exclusion, the establishment media refused to report on it. (At The Western Journal, we fight to bring you the news other outlets will not. You can support us in the fight for truth by subscribing.)
Many social media users also speculated that Hunter Biden's child with Roberts was the one grandchild who was left out.
In the photo above, some letters can be seen on the stockings. The beginnings of the names "Naomi," "Finnegan" and "Natalie" appear to be written.
Since all the names cannot be seen, it is hard to confirm that Roberts' child is the one left out. However, that does not make the Biden family look much better.
If the family left out Hunter's son with Roberts, they were essentially ignoring him because they view him as an embarrassment. If it was a different grandchild who was left out, the family simply forgot one of their grandchildren.
In either case, the Bidens' mistake is humiliating.
Nothing says Christmas like leaving out a family member.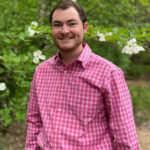 Grant Atkinson, Associate Reporter
Grant is a graduate of Virginia Tech with a bachelor's degree in journalism. He has five years of writing experience with various outlets and enjoys covering politics and sports.