Posts tagged 'Health Care'

Posted by
Leslie Eastman
Sunday, March 24, 2019 at 3:00pm
URL of the original posting site: https://legalinsurrection.com/2019/03/u-s-infectious-diseases-surge-as-public-health-controls-disappear/
If you run a feudal society, you may expect feudal problems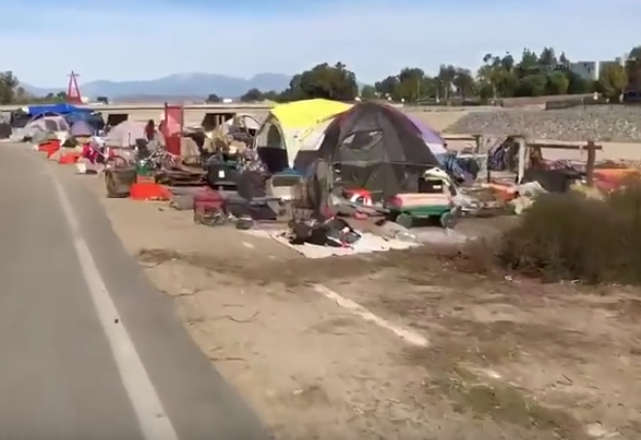 It was with some astonishment I read the latest Scientific American piece, "Medieval" Diseases Flare as Unsanitary Living Conditions Proliferate", which reviews the government's response to the recent outbreaks of typhus, hepatitis A, and measles.
Infectious diseases—some that ravaged populations in the Middle Ages—are resurging in California and around the country, and are hitting homeless populations especially hard.

…Public health officials and politicians are using terms like "disaster" and "public health crisis" to describe the outbreaks, and they warn that these diseases can easily jump beyond the homeless population.

"Our homeless crisis is increasingly becoming a public health crisis," California Gov. Gavin Newsom said in his State of the State speech in February, citing outbreaks of hepatitis A in San Diego County, syphilis in Sonoma County and typhus in Los Angeles County.

"Typhus," he said. "A medieval disease. In California. In 2019."
After all, we noted this fact as early as 2015, when we noticed the combination of Obamacare and illegal immigration was hitting our public health system hard. Legal Insurrection has also followed the outbreaks of hepatitis A, typhus, measles, and other diseases in the news.
The record levels of previously well-controlled diseases is a disturbing trend. Now the Centers for Disease Control is indicating that the U.S. saw the most sexually transmitted diseases to date.
In 2017, the most recent data reported, there were dramatic increases in gonorrhea, syphilis and chlamydia.

In the country, there were 2,365,744 reported cases of these three diseases with chlamydia making up more than half of the reports (1,708,569 cases of chlamydia).

Total cases of these two STDs in the U.S. in 1941 was 679,028. Reporting on chlamydia did not begin until 1984 when there were 7,594 cases of the disease.
Popular Science also recently took a look at infectious diseases, addressing the reason that they were so hard to eradicate. Part of the reason can be attributed to politics.
…[G]etting the number of cases from a handful to zero comes with its own set of challenges, says Stephen Blount, director of Special Health Projects at the Carter Center, a human rights and public health nonprofit organization started by former president Jimmy Carter.

When the number of cases gets this small, he says, political issues become increasingly important. "It takes more time and energy and effort to find the last one, two, or 20 cases than [to] find them when there are hundreds." People who make decisions around resource allocation might also see getting rid of the last handful of cases as a low priority, as there are always other conditions having greater impact.

However, Blount says, the last remnants of a disease won't go away on their own. "It'll almost certainly start to get bigger if you discontinue the human effort to drive cases down."

Once a disease is eradicated, there's no longer a need for a public health infrastructure to try and beat back the progress of a virus: If it's not around, there's no need for anyone to be vaccinated. But until the number of disease cases hits zero, researchers must invest similar effort and resources to keep the condition from spreading.

…"If you take action for a long period of time, and get numbers down, but stop the intervention, it almost certainly will come back," Blount says.
Today's politicians have enjoyed the public health works established by previous generations, but have clearly focused on policies that have undermined the solid efforts of their predecessors.
There were reasons rules were established against vagrancy, illegal immigration, unlawful dumping, and public urination. There was also logic behind measures requiring vaccinations, reporting of sexually transmitted diseases, and controlled care for those whose mental illnesses made it impossible for them to care for themselves properly.
Public health policy isn't there to be mean, racist, or sexist.
It appears our feudal lords are going to have to relearn and reestablish these public health practices one more time if we are to have a healthy future.
Finally, I will simply point out to my governor that if you run a feudal society, you may expect feudal problems.

Posted by
Leslie Eastman
Sunday, February 3, 2019 at 6:00pm
"There are about 24,500 injection drug users in San Francisco — that's about 8,500 more people than the nearly 16,000 students enrolled in San Francisco Unified School District's 15 high schools"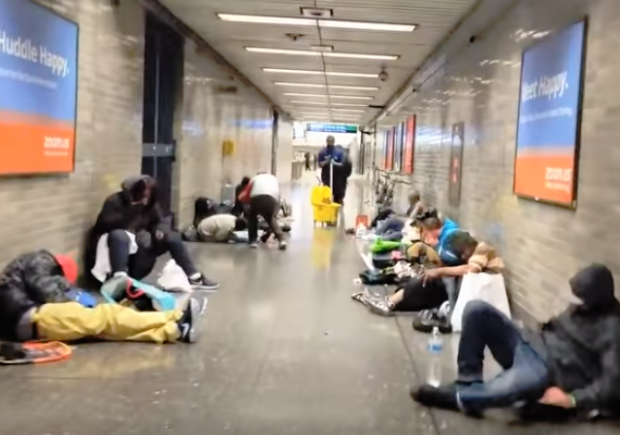 The Left Coast of this great nation is often held up as a blueprint for progressive policy successes by its politicians, such as Democratic Party presidential hopeful Kamala Harris. However, just how close to utopia are these progressive paradises? A look at the public health conditions show that the only "wealth" that seems to be readily spread through these regions is viral load.
Late last year, I reported that the Los Angeles area was battling a typhus epidemic.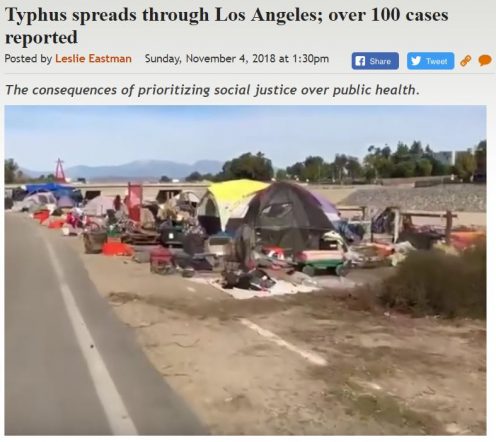 Now, a Los Angeles City Hall official is one of the latest victims of typhus, and the disease continues to spread across Los Angeles County.
For months, LA County public health officials have said

typhus

is mainly hitting the homeless population. But Deputy City Attorney Liz Greenwood, a veteran prosecutor, tells NBC4

she was diagnosed with typhus in November, after experiencing high fevers and excruciating headaches.

"It felt like somebody was driving railroad stakes through my eyes and out the back of my neck," Greenwood told the I-Team. "Who gets typhus? It's a medieval disease that's caused by trash."

Greenwood believes she contracted typhus from fleas in her office at City Hall East. Fleas often live on rats, which congregate in the many heaps of trash that are visible across the city of LA, and are a breeding ground for typhus.
The California Department of Public Health reports a 55% increase in reported cases of typhus for 2018, with over 160 cases reported across the state. A bit farther North, the blue bastion of San Francisco has a fun, new statistic about which it can boast.
San Francisco has more drug addicts than it has students enrolled in its public high schools,

the city Health Department's latest estimates conclude.

There are about 24,500 injection drug users in San Francisco

— that's about 8,500 more people than the nearly 16,000 students enrolled in San Francisco Unified School District's 15 high schools and illustrates the scope of the problem on the city's streets. It's also an increase of about 2,000 serious drug users since 2012, the last time a study was done….

The problem is particularly visible in the Tenderloin, where police reported more than 600 arrests for drug dealing last year. And where 27 suspects were booked into County Jail for dealing drugs in the first 20 days of the new year.

The out-in-the-open use of drugs on city sidewalks and at the Civic Center BART Station was a huge embarrassment for the city and triggered more police patrols and crackdowns in the past year. The BART station has been cleaned up, but the problem continues in the Tenderloin.
To be fair, who would really want to live in the Bay Area completely sober?
As the final item in our review of social justice citadels, let's look at Washington state. A few weeks ago, I reported that the section of the state close to Portland, Oregon (an officially designated anti-vaccine hot spot) was experiencing a measles emergency.
Early last week, Washington Governor Jay Inslee Friday a state of emergency related to the measles outbreak.
State agencies will work with local health departments and emergency management teams to help respond to any needs,

including epidemiology to verify suspected cases, technical assistance to educate the public on measles outbreaks and guidance on how to protect vulnerable populations,

according to Tara Lee, spokeswoman for the governor.
As public health officials review the escalating number of measles outbreaks, some indicate that social media may be a contributing factor to the anti-vaccination movement that is leading to the spread of contagion.
Dawn Nolt, an assistant professor of pediatric diseases at Doernbecher children's hospital in Portland, said that while measles is only rarely deadly,

"it has high consequences" for the short-term health of its victims. She said measles is also highly contagious, and will spread to 90% of unvaccinated people who are exposed to a carrier of the disease.

She has seen an increase in what practitioners call "vaccine hesitancy", and she added: "I do wonder whether the advent of social media has empowered that anti-vaccine movement."
Clearly, Los Angeles, San Francisco and Washington State show that social justice demands conflict with public health needs and common sense.
186 House Democrats voted against keeping the Children's Health Insurance Program (CHIP) funded for the next six years as they opposed a stopgap spending measure in the House of Representatives Thursday that would keep the government open for the next four weeks.
Senate Democrats were likewise poised to vote against CHIP, as they declared earlier in the day that they had the votes to filibuster the spending bill and shut down the government. (Republicans have taken to calling the impending shutdown the "Schumer shutdown," for Minority Leader Charles Schumer (D-NY), in response.)
CHIP provides funds for health insurance for children from low-income families who are not poor enough to be eligible for Medicaid. CHIP funding is the number one issue for American voters overall, according to a recent poll by Politico and the Harvard University School of Public Health.
When he won Alabama's special election for the U.S. Senate last month, Doug Jones called on both parties to put politics aside and vote to fund the CHIP program:
"Take this election," Jones said, "take this election where the people of Alabama said we want to get something done, we want you to find common ground, we want you to talk. Take this opportunity in light of this election and go ahead and fund that CHIP program before I get up there. Put it aside and let's do it for those million kids and 150,000 here in Birmingham, Alabama."
Congress did not do so, but Jones proposed a bill last week that would extend CHIP funding for five years — one year shorter than the stopgap spending bill Democrats are rejecting.
CNN political analyst Gloria Borger offered her version of Democrats' argument Thursday: "If this is so important to you Republicans, why didn't you take it up earlier this year when you could have, when the Democrats wanted to deal with it? I mean, children's health insurance is something that you can bring up on the floor any time and renew it, and they've been screaming about it — the Democrats have been screaming about it for quite some time."
Voters in contested House and Senate districts this year can expect to see Republican advertisements noting that Democratic incumbents voted against funding CHIP. Only six House Democrats broke ranks to vote with the GOP.
Joel B. Pollak is Senior Editor-at-Large at Breitbart News. He was named to Forward's 50 "most influential" Jews in 2017. He is the co-author of How Trump Won: The Inside Story of a Revolution, is available from Regnery. Follow him on Twitter at @joelpollak
Reported 
URL of the original posting site: https://www.westernjournalism.com/conservatives-demand-mcconnel-step-down-as-senate-leader/?
Advertisement – story continues below
Senate Majority Leader Mitch McConnell, R-Ky., has been hit with a heavy vote of no confidence from conservative groups around the country. 
On Wednesday, leaders from several conservative organizations called on McConnell to abdicate his position, citing a list of broken promises he made to Republican voters.
They are calling on not only McConnell, but also members of his leadership team, to step down.
"You and the rest of your leadership team were given the majority because you pledged to stop the steady flow of illegal immigration,"

states their letter to McConnell, according to Fox News.

"You have done nothing

. You pledged to reduce the size of this oppressive federal government.

You have done nothing

. You pledged to reduce, and ultimately eliminate the out-of-control deficit spending that is bankrupting America.

You have done nothing

. You promised to repeal Obamacare, 'root and branch.'

You have done nothing

. You promised tax reform. You

have done nothing

."
Disgruntled conservatives held a news conference in Washington, D.C. to address their concerns and desire to see the leadership team dissolved.
"We call on all five members of the GOP Senate leadership to step down, or for their caucus to remove them as soon as possible," Ken Cuccinelli, the president of the Senate Conservatives Fund, said at the conference.
Advertisement – story continues below
The Senate Conservatives Fund, founded in 2008 by former Senator Jim DeMint, has worked for years to elect more conservative GOP candidates to the upper chamber in Congress. The group has regularly clashed with the more moderate wing of GOP leadership. The SCF wasn't the only group calling for McConnell to vacate his position.
Members from FreedomWorks, For America and the Tea Party Patriots also joined the chorus in demanding GOP Senate leaders step aside after failing to enact conservative legislation, despite voters giving the Republican Party full control of Washington, D.C. on Election Day.
This is not the first time conservatives have called on McConnell to step down as majority leader, but the ferocity of Wednesday's press conference certainly puts an added weight on Republican lawmakers to get things done this legislative session.
The letter and press conference come as congressional Republicans are currently working to enact tax reform. GOP leaders so far have not succeeded in repealing Obamacare, failing several times to push through their own GOP health care bills. Republicans are hoping tax reform will be an issue the entire party can rally behind.
"If this was a football team, and you'd lost this many times, you'd start seriously considering firing the coaches,"

said For America President David Bozell.
Despite all agreeing that they'd wish to see McConnell go, many conservative leaders are not certain who they would like to see as a replacement.
"If I had to pick someone, I'd love to draft like Pat Toomey maybe," FreedomWorks President Adam Brandon said, referring to the GOP Pennsylvania senator. "There's a lot of different people out there who I think could unite this caucus and actually lead on some issues."
Jenny Beth Martin, co-founder of the Tea Party Patriots group, said she could see herself supporting Georgia GOP Senator David Perdue. "I'm from Georgia, so I'm not opposed to him," Martin explained, touting the junior senator's extensive business background as a former CEO.
Conservative candidates are taking notice as well. As the 2018 election cycle begins to heat up, many pro-Trump candidates are hoping to gain traction by displaying stronger support for the president.
"With rare exception, GOP senators blocking Trump's agenda are impediments we can not afford. Double that for Senate leaders," Ron Wallace, a Republican candidate for U.S. Senate in Virginia, said in a statement to Western Journalism.
Wallace is an insurgent candidate hoping to win the GOP primary and take on incumbent Democrat Senator Tim Kaine. Wallace is running on a pro-Trump platform and believes it's imperative the GOP majority pass what they promised to do.
"The American People voted for Tax Cuts, Border Walls, Rapid Growth, Excellent Law Enforcement, and Better Education. I expect strong proactive policies to make those outcomes possible and deliver cost-effective solutions, by whatever means may be necessary,"

he said.
Reported 
URL of the original posting site: https://conservativetribune.com/trump-unleashes-video-mccain/?
Advertisement – story continues below
Any 30-year career in the Senate is bound to have some highs and some lows. However, for Sen. John McCain, those lows seem to be agglomerating themselves in what are sure to be his final years in office.
While nobody ever thought that McCain was particularly a movement conservative — in fact, RINOs his size were usually only espied at the zoo or on safari — his unreliability became a major issue after he effectively sank Obamacare repeal in the Senate.
If McCain thought that his vote would be forgotten, or perhaps remembered as a profile in courage — well, it certainly doesn't look that way from here. And, as President Donald Trump reminded everyone, McCain's vote was a stab in the back to voters who relied on McCain's repeated promises to repeal Obamacare.
In a video posted by the president to Twitter on Monday, McCain is seen saying he would repeal and replace President Barack Obama's signature legislation over and over again:
This is what McCain supporters are scrambling to hide — it's not just once or twice. That video is over six minutes long. That's approximately the average length of one of the deep cuts on The Cure's "Disintegration." And, you know what? Listening to it is roughly about as depressing.
Advertisement – story continues below
Yes, I know, John McCain is a war hero. Yes, I know he's going through a tough time right now with his cancer diagnosis. Yes, I know, he has done some good things for the GOP. He has served his country in both the military and the Senate.
However, now that the GOP-led Congress has given up its final effort to pass Obamacare repeal — a weaksauce, establishment-friendly last-ditch effort at that — it's instructive to remember who shares the most responsibility for that failure.
All McCain had to do was cast the deciding vote and the Senate's plan would have gone into conference, where problems could have been hammered out. That's all he was being asked to do. That's what he torpedoed at age 81, in what is almost certainly his final term in the Senate.
President Trump isn't going to forget that McCain singlehandedly killed the last chance to accomplish what the Arizona senator has been promising for years. Neither should you.