Reported By Jack Davis | Published October 20, 2020 at 6:54am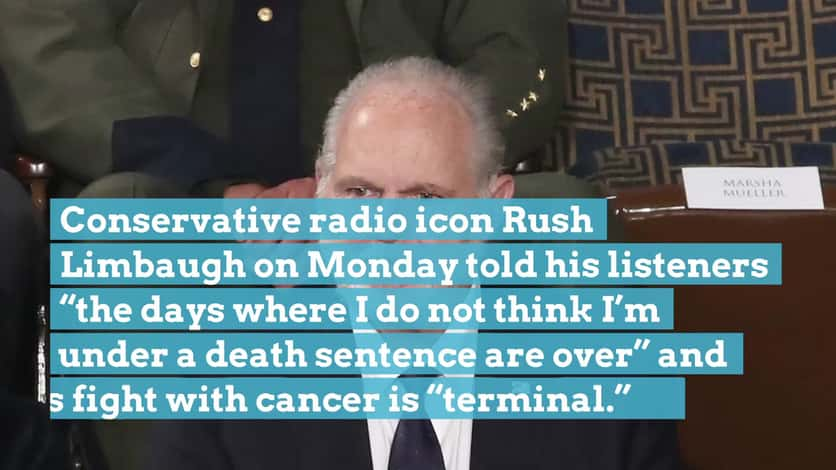 In February, the legendary broadcaster revealed he had advanced lung cancer but vowed to stay on the radio as he battled the disease. Limbaugh said in May that his treatment was physically grueling but that he would not stop fighting. As recently as July, he said he was hoping the treatment would give him "extra innings."
But on Monday, Limbaugh told his audience that the latest results show the cancer that had been stymied is growing once again, according to a transcript of his remarks posted on his website.
Advertisement – story continues below
"From the moment you get the diagnosis, there's a part of you every day, OK, that's it. Life's over," he said. "You just don't know when. But when you get that diagnosis, I mean, that's … So, during the period of time after the diagnosis, you do what you can to prolong life, do what you can to prolong a happy life. You measure a happy life against whatever medication it takes.

"And at some point you can decide, you know, this medication may be working, but I hate the way I feel every day. I'm not there yet. But it is part and parcel of this."It's tough to realize that the days where I do not think I'm under a death sentence are over. Now, we all are, is the point. We all know that we're going to die at some point, but when you have a terminal disease diagnosis that has a time frame to it, then that puts a different psychological and even physical awareness to it."
He said that when he went to the doctor last week, "The scans did show some progression of cancer. Now, prior to that, the scans had shown that we had rendered the cancer dormant. That's my phrase for it. We had stopped the growth. It had been reduced, and it had become manageable."
Advertisement – story continues below
Limbaugh said the results were in some ways inevitable "because it is cancer. It eventually outsmarts pretty much everything you throw at it. And this, of course, this is stage four lung cancer."
Later he noted that "stage four is, as they say, terminal. So we have some recent progression. It's not dramatic, but it is the wrong direction."
The results mean that Limbaugh's treatment is being adjusted "in hopes of keeping additional progression at bay for as long as possible."
Many on Twitter saluted Limbaugh.
…………………………………………."I try to remain committed to the idea what's supposed to happen, will happen when it's meant to. I mentioned at the outset of this — the first day I told you — that I have a personal relationship with Jesus Christ," he said. "It is of immense value, strength, confidence, and that's why I'm able to remain fully committed to the idea that what is supposed to happen will happen when it's meant to.