Read more at https://www.foxnews.com/politics/biden-set-approve-massive-oil-drilling-project-climate-activists-derided-carbon-bomb
The Biden administration announced Monday that it is moving forward with approving a massive 30-year oil drilling project in Alaska over objections from climate activists and Democratic lawmakers about its environmental impact.
The Department of Interior (DOI) approved three of the five drilling sites proposed by oil company ConocoPhillips as part of its Willow Project in the National Petroleum Reserve (NPR-A) located in North Slope Borough, Alaska. ConocoPhillips previously stated that, for the project to remain economically viable, the federal government would need to approve at least three of the sites.
According to the record of decision published by the Bureau of Land Management, the administration is also flatly rejecting the two other drilling sites and associated infrastructure proposed by ConocoPhillips. And the Houston-based company agreed to forfeit about 68,000 acres of drilling rights that it owns for a separate project.
The decision noted that the approved option would produce the fewest greenhouse gas emissions compared to all alternatives and the DOI said, by denying two of the drilling sites, it was "substantially reducing the size of the project."
BIDEN APPEARS TO GO OFF SCRIPT TO SAY US NEEDS OIL, GAS DRILLING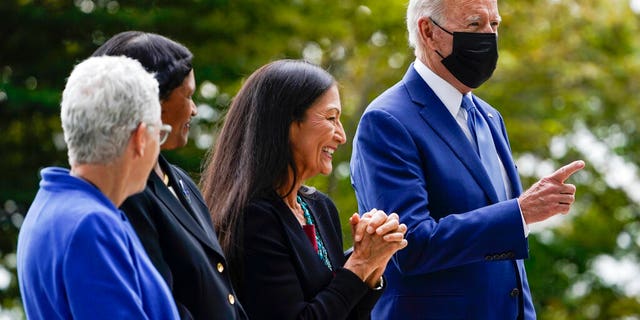 "The Record of Decision denies two of the five drill site pads proposed by ConocoPhillips, reducing the project's drill pads by 40 percent," the DOI said in a statement. "The concurrent relinquishment of 68,000 acres by the company of its existing northernmost and southernmost leases within the Bear Tooth Unit reduces the Bear Tooth Unit's footprint in the NPR-A by one-third."

"This reduces the project's freshwater use and eliminates all infrastructure related to the two rejected drill sites, including approximately 11 miles of roads, 20 miles of pipelines, and 133 acres of gravel, all of which reduces potential impacts to caribou migration and subsistence users."
While the DOI issued the final decision Monday morning, President Biden and senior White House officials have been actively involved in overseeing the approval process.
The final record of decision, meanwhile, comes years after ConocoPhillips first proposed the project. Willow was originally approved under the Trump administration before a federal judge ordered the government to conduct a more rigorous environmental analysis following a legal challenge from climate advocacy groups.
BIDEN EXPECTED TO APPROVE ENORMOUS OIL DRILLING PROJECT IN BLOW TO CLIMATE ACTIVISTS: 'COMPLETE BETRAYAL'
The company has forecasted the project will produce up to 180,000 barrels of oil per day, create more than 2,500 construction jobs and 300 long-term jobs, and deliver as much as $17 billion in revenue for the federal government, Alaska and local communities, many of which are Indigenous. The project will lead to the construction of up to 250 wells, multiple pipelines, a central processing plant, an airport and a gravel mine.
Over its three-decade lifespan, Willow is projected to produce up to 614 million barrels of oil. In 2022, producers in the U.S. drilled for 4.3 billion barrels of oil on federal lands and waters.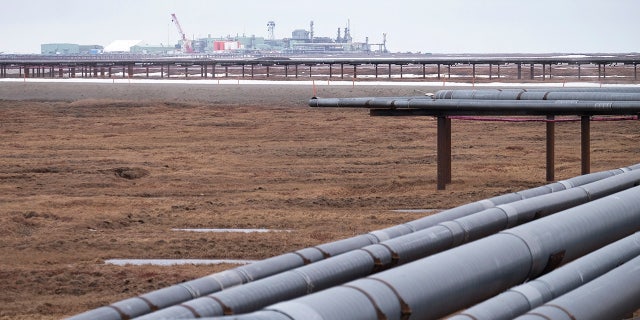 "The permitting and environmental review process encompassed a period of well over two years and included multiple rounds of public comment and public meetings with Alaska Native stakeholders," Alaska Federation of Natives (AFN) President Julie Kitka wrote in a letter to Haaland last year.

"AFN understands that the need for a proactive whole of government approach to deal with climate change; however fossil fuels will be with us for quite some time to come, and projects like Willow can help bridge the gap," Kitka continued. "The Willow Project could jumpstart our economy with thousands of jobs and be a model in community and environmental stewardship for future opportunities."
In addition to the AFN, the largest group representing Natives in Alaska, Willow also received strong support from the state's entire legislature, Republican Gov. Mike Dunleavy, labor unions, elected leaders of the North Slope Borough and Alaska's entire congressional delegation — Republican Sens. Dan Sullivan and Lisa Murkowski and Democratic Rep. Mary Peltola — over the last year.
DARK MONEY ECO GROUP APPEARS TO BE ASTROTURFING OPPOSITION TO MAJOR OIL PROJECT
During an hour-long meeting between Biden and the Alaska congressional delegation at the White House earlier this month, Sullivan handed the president a unanimous bipartisan resolution passed by the state's legislature in support of the project.
"I'm Yupik. We have Athabascans in this audience, we have Tlingits, we have Eyaks," Peltola said during a March 1 event in support of Willow. "Across the board, Alaska Natives are standing in support with Inupiaqs … across America there is no issue that has 100% unanimous support but clearly there is the preponderance of Inupiaqs who are in support of this. The majority of Alaska Natives, and the majority of Alaskans are in support of this."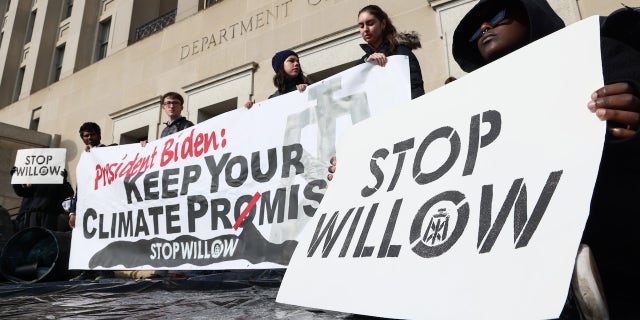 However, environmentalists and climate-focused Democratic lawmakers have blasted the project and urged Biden to completely reject its permits. It is estimated to produce 278 million tons of greenhouse gas emissions, the equivalent of the carbon footprint of two million cars. Groups like Earthjustice have labeled Willow as a "carbon bomb" and, following reports Friday evening that the DOI would sign off on it, Sen. Jeff Merkley, D-Ore., characterized the decision as a "complete betrayal."
THE WORDS OF CLIMATE TERRORISTS, AND THE CLIMATE RELIGIOUS CULT.
REPUBLICANS UNVEIL EFFORT TO BOOST ENERGY PRODUCTION, FAST-TRACK PERMITTING PROCESS
"If allowed to proceed, the Willow [Master Development Plan] would pose a significant threat to U.S. progress on climate issues," several House and Senate Democrats wrote to Biden on March 3. "Climate damage is unlikely to stop with the first phase of the Willow project; your administration needs to draw the line now."

"You can stop this ill-conceived and misguided project," they continued. "We therefore ask your administration to reject the Willow [Master Development Plan], choose the no-action alternative, and fundamentally reconsider this unsustainable approach to managing the Western Arctic."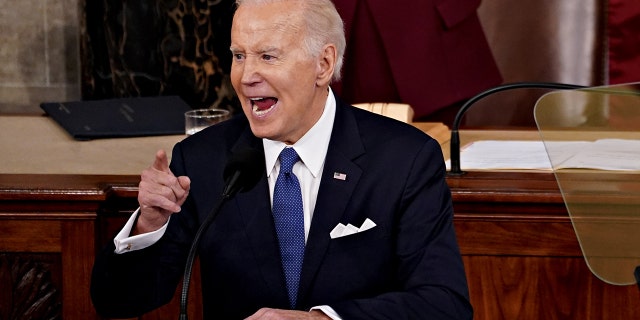 The letter — led by House Natural Resources Committee Ranking Member Raul Grijalva, D-Ariz., and Sen. Ed Markey, D-Mass. — added that the project alone would cause $19.8 billion worth of "climate-related damages." 
Progressive lawmakers Reps. Alexandria Ocasio-Cortez, D-N.Y., and Jamaal Bowman, D-N.Y., and Sens. Bernie Sanders, I-Vt., Elizabeth Warren, D-Mass., and Ron Wyden, D-Ore., also signed the letter.
Though, in an apparent attempt to soften the blow of its Willow approval, the Biden administration announced Sunday that it would indefinitely block 16 million acres of federal land and water in Alaska near the site of the Willow Project from future fossil fuel drilling.
CLICK HERE TO GET THE FOX NEWS APP
A former senior Bureau of Land Management official told Fox News Digital on Sunday the action was a "totally political decision" and not based in science. But activists said the move was not enough to blunt the impacts of Willow.
"These conservation decisions by the Biden administration are positive steps, but not nearly sufficient to blunt the impact of any version of the Willow oil and gas project," Karlin Itchoak, the Alaska senior regional director for The Wilderness Society, said in a statement.

"We cannot allow ConocoPhillips to accelerate the climate crisis."
Thomas Catenacci is a politics writer for Fox News Digital.