Chick-fil-A accused of going 'woke' over addition of diversity and inclusion agenda
By Leonardo Blair, Senior Features Reporter
https://www.christianpost.com/news/chick-fil-a-accused-of-going-woke.html?uid=*%7CUNIQID%7C*&utm_source=The+Christian+Post+List&utm_campaign=CP-Newsletter&utm_medium=email
Chick-fil-A, the leading fast-food chain that has shuttered its stores each Sunday to allow employees "to rest and worship if they choose" since 1946 and became a household name because of it, is now coming under fire over the company's diversity, equity and inclusion agenda and Erick McReynolds, the black company executive driving it.
"Our founder, Truett Cathy, believed that 'a great company is a caring company,' and since the beginning, care has been at the center of everything we do. We understand that the path toward Better at Together looks different for every business," states Chick-fil-A on a page on its corporate website dedicated to the DEI campaign.
LGBT gear at Kohl's: 'Little kids' T-shirt with transgender flag, 'proud' rainbow baby bib
Retail store partners with group supporting drag queens at libraries
By Ian M. Giatti, Christian Post Reporter
https://www.christianpost.com/news/lgbt-gear-at-kohls-little-kids-shirt-with-transgender-flag.html?uid=*%7CUNIQID%7C*&utm_source=The+Christian+Post+List&utm_campaign=CP-Newsletter&utm_medium=email
"Why is Kohl's selling pride clothing for babies?"
That's the question being asked by some conservative activists on social media as the chain has become the latest retail outlet to face scrutiny over its LGBT merchandise for young children.
The Kohl's website has a dedicated pride page with rainbow iconography with the heading "Love is our favorite color: Celebrate Pride Month" and a statement reading, "We are committed to amplifying and affirming the voices of the [LGBT] community, celebrating the joy that comes from living authentically and unapologetically not just this month, but all year long."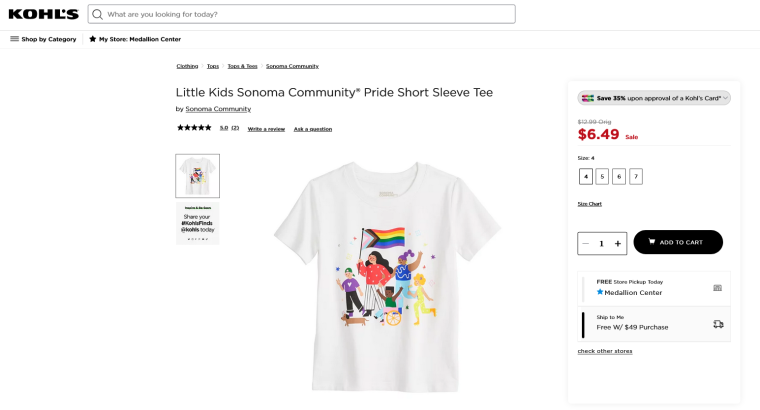 The website features a number of pride-themed clothing for kids and toddlers, including a "little kids" T-shirt featuring the transgender pride flag and a pride "baby bib" emblazoned with a rainbow and the words "PROUD OF MY FAMILY."