Read more at https://www.foxnews.com/politics/virginia-college-students-get-heated-protesting-liz-wheelers-ideology-transgenderism-speech
Conservative commentator Liz Wheeler was met by dozens of protesters Wednesday evening when she arrived to a Virginia college to deliver remarks about "transgenderism" and its impact in America.
The protest kicked off ahead of Wheeler's arrival on the campus of James Madison University, where she delievered a speech, "The Ideology of Transgenderism," and was challenged by a number of her detractors in attendance.
Wheeler, a podcast host who often sounds off on topics critical to the conservative agenda, was invited to speak at the event by the school's Young Americans for Freedom chapter.
The demonstrators, all of whom appeared to protest peacefully against Wheeler's appearance on campus, were captured on video gathering outside and inside the venue as they displayed signs and chanted ahead of the event.
FOX NEWS POLL: BOOK BANNING, TRANSGENDER ISSUES SEEN AS PROBLEMATIC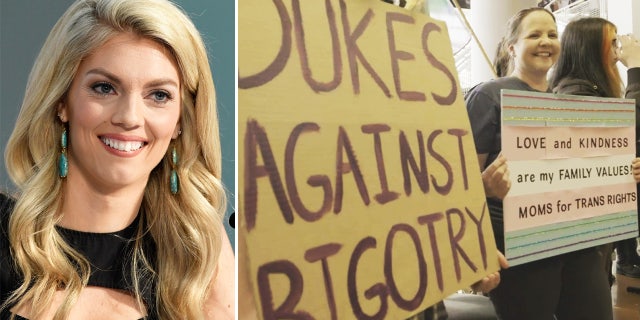 Wheeler responded to footage of the protesters prior to taking the stage, writing in a tweet: "Queer Theorists are lying to you. They don't care about you. They're using you to push their Marxist political agenda, and when they're done abusing you, they'll throw you away. You deserve more."
While several protesters gathered outside the venue, others gathered inside, just outside the room where Wheeler was slated to speak. Those demonstrators also displayed signs that featured messages protesting Wheeler's appearance on campus and in defense of transgender people.
"Love and kindness are my family values! Moms for Trans rights," one handcrafted poster stated. "Dukes against bigotry," another sign said, making reference to the school's nickname.
KANSAS BOARD SETS NEW TRANSGENDER ATHLETE RULE FOR STUDENTS
Wheeler took aim at "queer theory" during her speech, concluding it allows people to "choose your identity" and forgo your "evil identity" of being a certain race because it's a "marginalized identity."
"You can choose a marginalized LGBTQIA identity that will become your primary identity over the color of your skin," Wheeler said. "The only thing that the queer theorists demand in return is that you surrender to them your identity, your body, your mind, your spirit, your soul, your family, your religion and your country. If this gives you the chills, it should. Because this is what's happening across our country."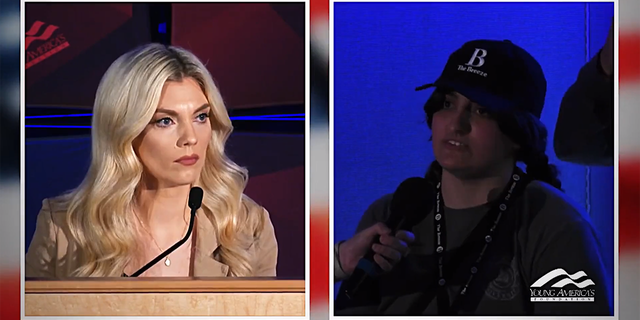 Inside the event, Wheeler was also challenged by those who had opposing views about transgenderism after she finished speaking.
"Because you said the left is basically trying to fearmonger a lot of people, couldn't people argue that you're doing the same by claiming that people are trying to destroy the family and like mutilate people's genitals and stuff," one individual in attendance for the event asked.
"Well, is it or is it not true that children's genitals are being mutilated in the name of transgender ideology," Wheeler said in response.
"Do you have proof of that," the individual responded.
"Yes I do. Have you Googled it?" Wheeler asked.
"Oh, I've Googled plenty, yes," the attendee said.
Responding to the initial question, Wheeler said "there's a difference between warning people about the reality of what's happening" and "pretending that someone's words" are hurtful.
Wheeler went on to describe to the individual how sex change surgeries are performed on young males in America and how some sex change surgeries have resulted in death because they are "so dangerous."
A Fox News Poll released this week found that 48% of respondents believe overly accommodating transgender policies are a major problem for public schools.
Kyle Morris covers politics for Fox News. Story tips can be sent to kyle.morris@fox.com and on Twitter: @RealKyleMorris.