Read more at https://www.foxnews.com/us/huge-mob-ransacks-california-gas-station-police-outnumbered-video
A shocking video captured a mob of California youth breaking into a gas station convenience store and then stealing what police say was thousands of dollars of products.
The incident happened early Sunday morning in Compton, California, after a large group of people blocked an intersection as part of a street takeover, with video footage capturing cars drifting in circles and screeching around 2:30 a.m., according to KLTA.
"It's unbelievable. Unreal. I've never seen anything like that happen here," Greg Johnson, a Compton resident and customer of the Arco Station that was looted, told ABC7 in reaction to the ransacking.
Staff at the Arco said that a clerk there hid in its bathroom while the looting was ongoing.
GUNMAN OPENS FIRE IN LA AT VOLUNTEERS WHO OFFERED TO PAINT OVER GRAFFITI AT ICE CREAM SHOP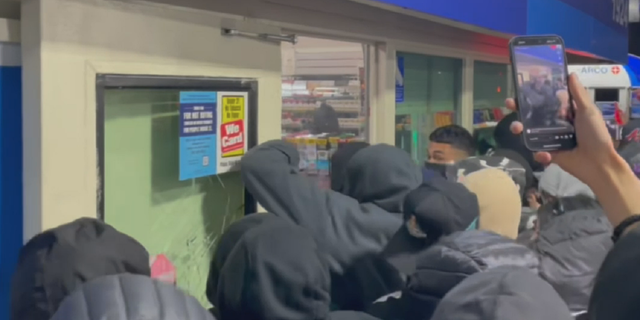 Video taken of the incident shows unidentified individuals first crowding around the entrance of the convenience store at the Arco Gas Station and kicking down its glass door to gain entry. 
Once inside, people could be seen swiping items from the stores' shelves, with one smiling individual taking packages of condoms and cigarettes.
The Los Angeles County Sheriff's Department said thousands of dollars of products ultimately were stolen and that the store suffered serious damage, ABC7 reported
Deputies at its Compton station were responding to incidents throughout the night, but police said since they are "currently limited with their staffed personnel," they "couldn't intervene with the giant takeover groups for safety concerns" and being "outnumbered," according to the station.
No arrests have been made yet in connection to the incident.
FLASHBACK: LOS ANGELES FLASH MOB LOOTS, VANDALIZES 7-ELEVEN FOLLOWING STREET TAKEOVER, POLICE SAY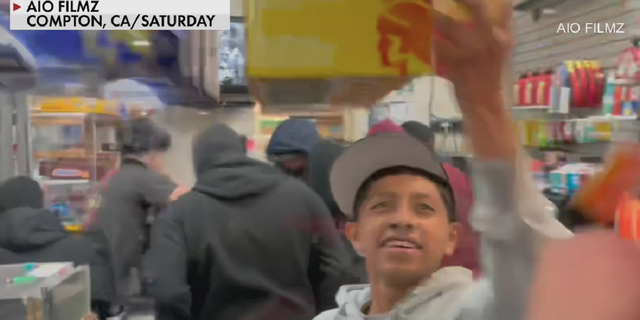 Sgt. Clarence Williams of the Los Angeles County Sheriff's Department told the Los Angeles Times that the street takeover near the Arco Gas Station was one of three in the area that night – but that he had never seen a flash mob bust into a store "to that level." 
By the time police arrived, the crowd had scattered, he reportedly added.
Around 100 people were involved, and the area was left covered in trash and tire marks afterward, KTLA reports.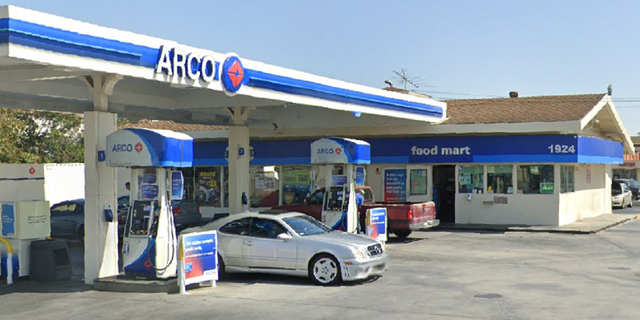 "It makes me angry," Norrice Heron, whom KTLA says witnessed the events, said to the station. "It makes me angry when they do that to the streets and put everybody in danger. 
An investigation into the footage showing the looting is reportedly ongoing.
Greg Norman is a reporter at Fox News Digital.