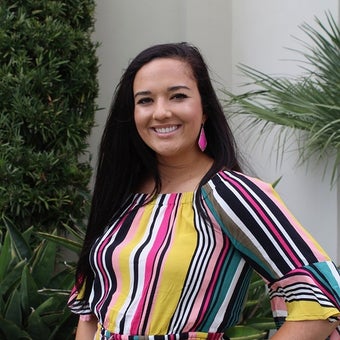 By Bailee Hill | Fox News | Published February 14, 2023 3:00pm EST
Read more at https://www.foxnews.com/media/buttigieg-hammered-remarks-white-construction-workers-ohio-train-disaster-new-low
The Biden administration is facing scrutiny over the Ohio train derailment that ultimately prompted officials to conduct a controlled burning of toxic, cancer-causing gases as new details emerge surrounding the incident.
Transportation Secretary Pete Buttigieg has faced mounting criticism for largely ignoring the derailment that happened earlier this month in East Palestine, involving about 50 train cars. On Monday, Buttigieg spoke at an event where he emphasized that infrastructure jobs in urban areas typically go to White workers from other neighborhoods.
"The people of East Palestine, Ohio, and folks across the country … do not live in this sphere that matters to Pete Buttigieg and the Biden administration and that is the politically delicious world of intersectionality," FOX Business host Dagen McDowell said during "Outnumbered" on Tuesday.
OHIO MAYOR FURIOUS WITH NORFOLK SOUTHERN AFTER TRAIN DERAILMENT: 'WE'RE GOING TO HOLD THEIR FEET TO THE FIRE'
"Democrats, liberals and the left have repeatedly denigrated people like those who are now living in this Chernobyl that is East Palestine, Ohio, calling them deplorables, bitterly clinging to their guns and Bibles, smelly Walmart choppers," she continued.

"I can go down the list of ways that the left and people like Buttigieg and people who represent Biden and his administration, even Biden himself, have showed their disdain, that runs deep and wide."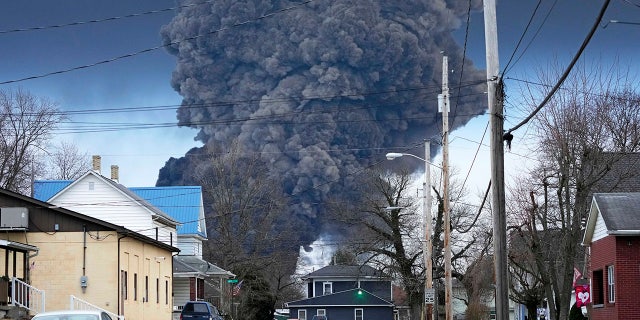 Buttigieg addressed the disaster twice via Twitter this week, but has been called out for not doing more, even by members of his own party. 
Rep. Ilhan Omar, D-Minn., was one of those critics demanding action from the Biden administration official.
"East Palestine railroad derailment will have a significant negative impact on the health and wellbeing of the residents for decades and there is almost zero national media attention," she tweeted on Monday. 
OFFICIALS ADVISE EVACUATION OVER EXPLOSION CONCERNS AFTER TRAIN DERAILMENT IN OHIO
"We need Congressional inquiry and direct action from Pete Buttigieg to address this tragedy," she continued. 
The train originally derailed on Feb. 3, but it wasn't until three days later that officials conducted a controlled burn of the toxins inside the cars in order to avoid an explosion.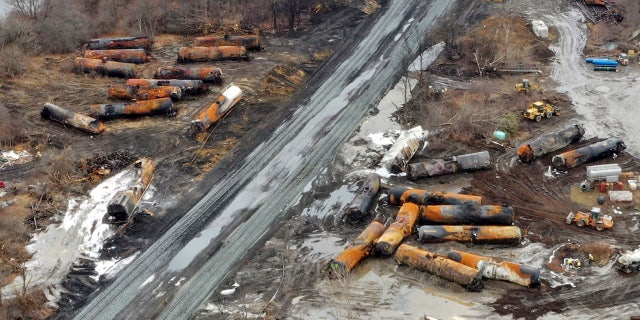 Following the burn, black smoke tainted the community as toxins like vinyl chloride, hydrogen chloride and phosgene filled the air. 
Govs. Mike DeWine, R-Ohio, and Josh Shapiro, D-Penn., along with officials from the Environmental Protection Agency (EPA) said the air quality has been tested many times since the controlled burn and is safe for consumption despite community concerns. 
ENVIRONMENTAL GROUPS PLAY KEY ROLE IN BIDEN ADMIN FOREIGN POLICY, EMAILS SHOW
But some residents are reportedly experiencing breathing trouble and other symptoms that they worry could be associated with the incident.
Buttigieg made a public appearance on Monday and failed to address the disaster but spoke about construction sites not employing local workers in minority communities and outsourcing the jobs to White people. He took to Twitter again on Tuesday to ensure residents that their safety is the utmost priority. 
"From day one, our USDOT personnel have been assisting in the response to the Norfolk Southern derailment in Ohio," he tweeted. "As NTSB conducts its investigation and EPA works to keep residents safe, our Federal Rail and Pipeline and Hazardous Material teams will continue to offer support."
Regardless, the bipartisan scrutiny surrounding Buttigieg's handling of the derailment has grown in recent days. McDowell called his absence "disgraceful."
"Buttigeig has really hit a new low here," McDowell said. "You mentioned this was February the third, and the fact that it took Ilhan Omar going on Twitter and shining a light on how embarrassing he is, and really plumbing new depths of heartlessness by ignoring what is a toxic waste site with farm animals dying, thousands of fish dying in creeks."
"Questions about whether the Ohio River is now contaminated, and he couldn't pick up his phone and maybe record a video for the people of East Palestine, Ohio?" she questioned. "From empathy to antipathy, it's disgraceful."
Earlier on "Fox & Friends," author and potential 2024 presidential candidate Vivek Ramaswamy slammed Buttigieg for focusing on issues of equity and climate change instead of actual threats to human health.
"That's one of the problems with the focus of our leaders, even as it relates to environmental issues. If it does not relate to their narrative of existential threats, risks from climate change or diversity in workforces, for that matter, it doesn't get the level of attention that it needs. This is actually a tragic incident and should be a wake-up call. But so far, their response suggests that they're still asleep at the switch," he said.
Bailee Hill is an associate editor with Fox News Digital. Story ideas can be sent to bailee.hill@fox.com