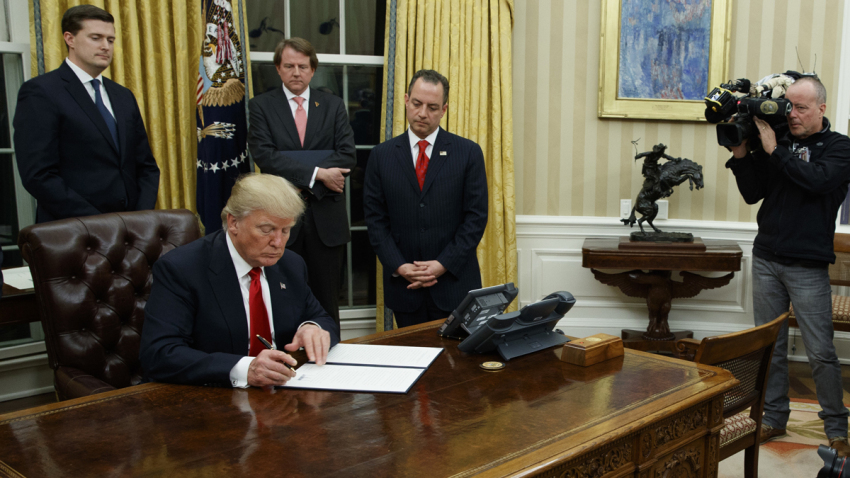 President Trump issued 73 pardons and commuted the federal sentences of 70 other people in the final hours of his administration, headlined by former White House chief strategist Steve Bannon. Trump also granted relief to rappers Lil Wayne and Kodak Black, who were convicted on weapons charges, as well as to former Detroit Mayor Kwame Kilpatrick. Kilpatrick, a Democrat, was convicted of mail fraud, wire fraud, and racketeering. He was serving a 28-year sentence. Trump through the White House press secretary cited Diamond and Silk and Pastor Paula White, strong supporters of his, as backers of commuting Kilpatrick's sentence.
Elliott Broidy, the former deputy finance chairman of the Republican National Committee, received a full presidential pardon. He was convicted on one count of conspiracy to serve as an unregistered agent of a foreign principal. Trump invoked Rep. Devin Nunes of California and Ambassador Richard Grenell, among other friends of the White House, as supporters of the pardon.
The last-minute acts of clemency cap four years of controversial pardons of supporters and allies, including former 2016 campaign chairman Paul Manafort, Republican operative Roger Stone, former Maricopa County Sheriff Joe Arpaio, former national security adviser Michael Flynn, former campaign aide George Papadopoulos, former Reps. Duncan Hunter and Chris Collins, and Charles Kushner, father of the president's son-in-law and senior adviser Jared Kushner.
Other recipients of Trump pardons who raised eyebrows included former Illinois Gov. Rod Blagojevich, a Democrat, four Iraq War veterans convicted in a Blackwater shooting, former New York City Police Commissioner Bernie Kerik, conservative commentator Dinesh D'Souza, and Scooter Libby, who had served as chief of staff to Vice President Dick Cheney. Trump pardoned Ignacio Ramos and Jose Compean, two former border patrol agents whose cases had long been championed by immigration hawks.
Trump has also occasionally issued pardons to further the goals of criminal justice reform, such as when he granted clemency to Alice Marie Johnson, a first-time nonviolent drug offender who spent 21 years in prison. "That means you can do whatever you want in life," Trump told her in the Oval Office earlier this year. He had previously commuted her life sentence in 2018.
Death Row Records co-founder Michael "Harry O" Harris was granted early release from prison, where he had served three decades for attempted murder and cocaine trafficking. Rapper Snoop Dogg praised the move. These acts of clemency have generally received more positive reviews than Trump's pardons of political supporters and personal associates, rekindling the former reality TV star's once-chummy relationship with Hollywood.
Kim Kardashian West has visited the White House to advise Trump on less famous people who could benefit from pardons and commutations. Rep. Thomas Massie, a Kentucky Republican, tweeted Wednesday night that he was "more interested" in seeing Trump's pardons than President-elect Joe Biden's Cabinet nominees.
A number low-level drug offenders were included in the current Trump list. Some supporters had hoped he would strike against the "deep state" by pardoning WikiLeaks founder Julian Assange and whistleblower Edward Snowden, who leaked highly classified information from the National Security Agency while a federal contractor. They were not on the pardons list.
Trump has also used the pardon power to strike back at the investigation conducted by special counsel Robert Mueller, which the president has regularly described as the "Russia hoax." This led to the pardons of Manafort, Stone, Papadopoulos, and, to a lesser extent, Flynn. Trump repeated the phrase "Russian collusion hoax" in announcing a full pardon for Paul Erickson. Mueller's final report did not establish the Trump campaign colluded with Russia in the 2016 presidential election.
Bannon was charged with defrauding donors who hoped to help privately fund the construction of a wall along the U.S.-Mexican border, a key Trump campaign promise. Bannon, a staunch proponent of the president's populist and nationalist variant of conservatism both before and after serving in the White House, has denied the allegations. He had yet to stand trial.
In the days leading up to the final pardons, there was rampant speculation that Trump might pardon family members or even himself. Acts of clemency for Donald Trump Jr., Eric Trump, or Ivanka Trump, three of the president's adult children, were thought to complicate any political future they or their spouses might be entertaining. The constitutionality of a presidential self-pardon has been debated by legal scholars.
Trump was reportedly warned by top aides not to pardon anyone involved in the "Stop the Steal" rally prior to the Jan. 6 attack on the Capitol by die-hard supporters of the president who were protesting the certification of Biden's Electoral College victory. The House voted to impeach Trump for inciting the riot, and a Senate trial will follow after he leaves office, potentially paving the way for legislation to prevent him from running again in 2024. Five people died in the riots.
Trump has steadfastly maintained the election was stolen due to widespread voter fraud, though he has in recent days acknowledged "a new administration" will be taking power at the conclusion of his term. The slew of pardons beginning in December were also seen as a concession that his time in the White House was coming to a close.