Read more at https://www.foxnews.com/media/transgender-student-challenges-glenn-youngkin-virginias-bathroom-sports-policy
Virginia Gov. Glenn Youngkin defended the state's policies on school bathrooms and sports on Thursday following a question from a transgender student.
Youngkin's administration rewrote the state's policies on transgender youths at public schools in September, requiring students to use bathrooms, locker rooms and join sports teams based on their sex at birth, not their gender identity. The policy updates also include forbidding students from changing their names and preferred pronouns at public schools without the consent of their parents.
During the audience Q&A section of Thursday's CNN town hall, a 17-year-old transgender student, who went only by the name "Nico," asked Youngkin about these policies.
YOUNGKIN SAYS VIRGINIANS SHOULD OWN 'RICH AND VIBRANT' FARMLAND, NOT THE CCP: 'THAT'S COMMON SENSE'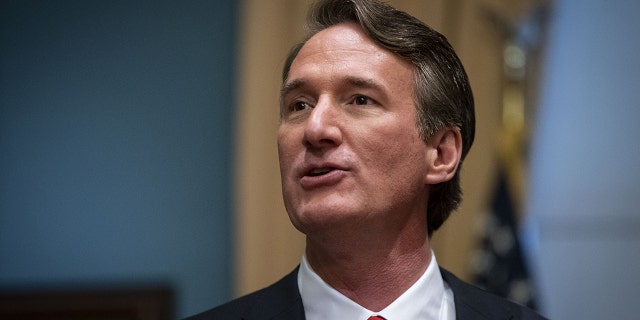 "Look at me. I am a transgender man," Nico said. "Do you really think the girls in my high school would feel comfortable sharing a restroom with me?"
Youngkin replied by first thanking the student for attending the event and engaging in the critical discussion.
"I believe first that when parents are engaged with their children, then you can make good decisions together, and I met your dad, and I'm glad that you're both here together — it's really, really important," he said.
Youngkin then said that many students are involved in this decision and noted the importance of accommodating students, highlighting the need for more school bathrooms, including gender-neutral lavatories.
"People can use the bathroom that they in fact are comfortable with," he added.
FEDERAL APPEALS COURT BACKS FLORIDA SCHOOL DISTRICT THAT BLOCKED TRANSGENDER STUDENT FROM USING BOYS BATHROOM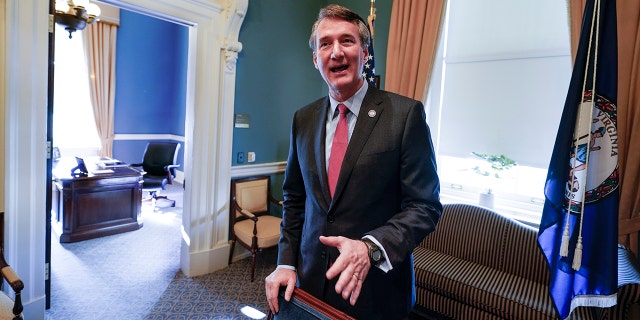 Youngkin then gave a significantly more definitive answer to transgender men and women competing in sports.
"I think sports are very clear and I don't think it's controversial. I don't think biological boys should be playing sports with biological girls," he said. "There's been decades of efforts in order to gain opportunities for women in sports. And it's just not fair. And I think that's non-controversial and something that is pretty well understood."

"There's been decades of efforts in order to gain opportunities for women in sports. And it's just not fair. And I think that's non-controversial and something that is pretty well understood."
As Youngkin responded, Nico's father could be seen in the audience shaking his head.
FEMALE SWIMMER WHO TIED LIA THOMAS SLAMS TRANSGENDER SPORTS POLICY: TAKING WOMEN 'BACK TO THE 1970S'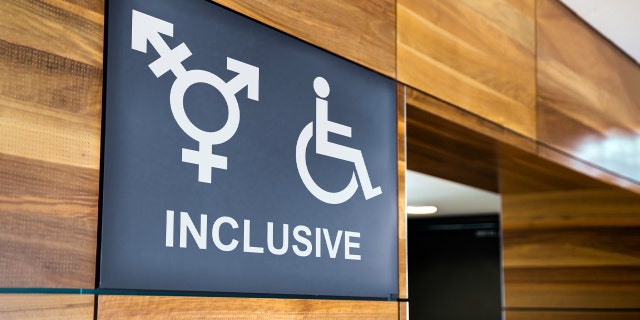 Youngkin previously defended his state policies on CNN in October when he told Jake Tapper, "Let me begin with these basic principles, which is first, parents have a fundamental right to be engaged in their children's lives. And oh, by the way, children have a right to have parents engaged in their lives. We needed to fix a wrong. The previous administration had had a policy that excluded parents and, in fact, particularly didn't require the involvement of parents. And let's be clear — parents have this right and children don't belong to the state, they belong to families."
Tapper pressed the Republican governor on whether the policies would actually exclude parents who are supportive of their child using facilities or joining sports teams based on gender identity and not biological sex.
CLICK HERE TO GET THE FOX NEWS APP
"Certainly not. If parents actually want their child to be able to change a pronoun or their name or use a bathroom, if parents choose that, then legally that's what the schools will do. With regards to sports teams, this is a different issue," Youngkin responded.
Fox News' Emma Colton contributed to this report.
Nikolas Lanum is an associate editor for Fox News Digital.