Read more at https://www.foxnews.com/politics/john-fettermans-office-has-quietly-doctored-several-quotes-make-him-sound-more-coherent-review-fin
A Fox News Digital review has found Sen. John Fetterman's office is doctoring his quotes to make him sound more coherent as questions linger about his health following a stroke.
Democratic Sen. John Fetterman suffered a stroke a year ago, and questions about his health have remained at the forefront as he has struggled through Senate hearings due to speaking and cognitive issues. The Pennsylvania senator's office has repeatedly slammed critics for drawing attention to the issue and maintains he is fine outside of auditory processing problems. Meanwhile, they have quietly doctored his comments to make him sound more coherent as he grasps with recovery.
The issue exploded on Wednesday when Jeff Stein, a Washington Post economics reporter, admitted to amplifying a misquote Fetterman's office provided to him, which had significantly altered Fetterman's actual statements. Stein received backlash for tweeting that Fetterman had asked Silicon Valley Bank ex-CEO Greg Becker, "Shouldn't you have a working requirement after we bail out your bank? Republicans seem to be more preoccupied with SNAP requirements for hungry people than protecting taxpayers that have to bail out these banks."
FETTERMAN SAYS HE 'WASN'T FUNCTIONAL' AFTER ELECTION WIN: 'I LITERALLY STOPPED EATING AND DRINKING'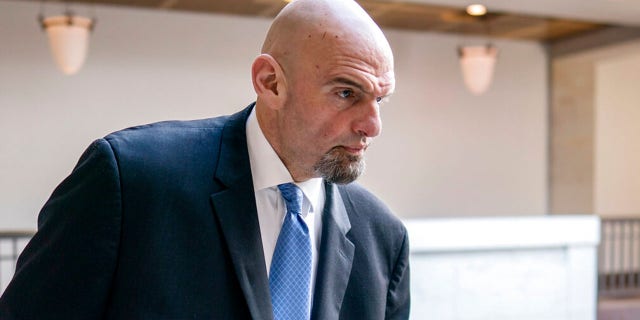 Fetterman, however, was much less clear in his Tuesday comments, which left the witness speechless.
"The Republicans want to give a work requirement for SNAP," Fetterman said. "You know, for a uh, uh, uh, a hungry family has to have these, this kind of penalties, or these some kinds of word — working uh, require — Shouldn't you have a working requirement, after we sail your bank, billions of your bank? Because you seem we were preoccupied, uh when, then SNAP requirements for works, for hungry people, but not about protecting the tax, the tax papers, you know, that will bail them out of whatever does about a bank to crash it."
While it is common for reporters to leave out filler words like "um" and "you know" when transcribing remarks, the extreme changes to Fetterman's actual words in the quote Stein tweeted left onlookers stunned.
Stein scrubbed his initial tweet, confessing that he received a quote from Fetterman's office but failed to verify it with the video. "That was my fault," Stein wrote. "Though it captured his meaning, I deleted the tweet once some of the words in the quote were inaccurate."
However, Fetterman's office substantially cleaning up his quotes is not a one-time incident, according to a Fox News Digital review of remarks posted on his congressional website compared to the corresponding video of the hearings. The review found that Fetterman's office has drastically altered his comments several times after he returned to Capitol Hill in mid-April following a weeks-long absence for depression. 
WATCH: FETTERMAN'S COMMENTS VS. HIS OFFICE'S TRANSCRIPT
Fetterman chaired his first subcommittee hearing on April 19 since returning from his treatment. During the hearing, his opening statements drew online attention. Meanwhile, his office just posted a link to his closing remarks without transcription.
FETTERMAN WILL CHAIR FIRST SUBCOMMITTEE HEARING DAYS AFTER RETURNING FROM WEEKS-LONG ABSENCE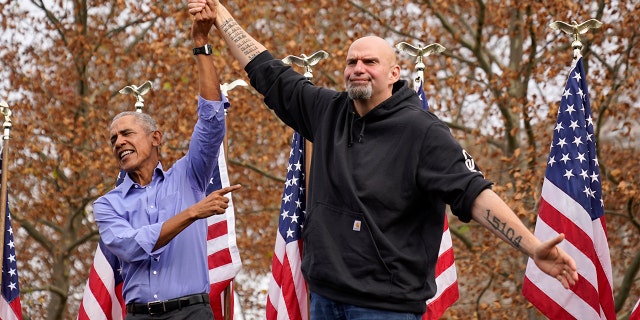 In the next hearing posted on the website, from April 26, the office quoted Fetterman as saying, "I'm really excited about Whole-Home Repairs. Here in Pennsylvania, one of my friends, Nikil Saval in the Senate, shepherded it. And he got linked up with the Republicans and they actually created one of the first kinds of a program like this in the nation.
"I come from a community here, in Braddock, Pennsylvania, where your home can go bad really quickly. And I'm really excited that we can take something like that, which is happening in Pennsylvania, and take it federal."
However, according to the linked clip, Fetterman's words differed significantly.
"I'm really excited by it, because here in Pennsylvania one of my friends really [inaudible] it, Nikil Saval, he was one of the literally — quite literally — as hard left as a politician I'm aware of — you know — certainly in the Senate," Fetterman says. "Um, he really helped shepherd that. And he got linked up with the Republicans, and he actually created the first kind of a program like this in the nation, you know. And one of my colleague — Mr. Vance — talked about well if there's a leak in the ceiling, what if you don't have the money to fix that? What can happen to that, kinda things?'

"I come from a community down in Braddock, Pennsylvania, where there's a lot of — your home can go bad quickly if you were having those kinds — so I'm a big — you know — I'm incredibly, I think I'm excited that could take from Pennsylvania and go federal."
In another referenced hearing on the website, from May 11, the office wrote how Fetterman "grills a witness on weed legalization" at a banking hearing. 
NBC REPORTER GETTING 'BULLIED' BY MEDIA FOR FETTERMAN REPORT WAS 'PATHETIC,' 'WRONG,' SAY INSIDERS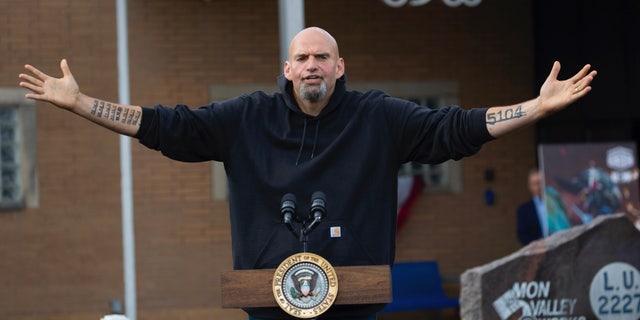 "We need to make it legal," Fetterman's website quoted him as saying. "I just believe it's a freedom issue. I've given hundreds of pardons to people who have had their lives ruined by a B.S. charge."
The quote came as Fetterman gave an example of people walking into liquor and wine stores in Pennsylvania.
"I don't know anyone that walks in and is, 'oh, my God I ended up with grain alcohol instead of this — you know — this bottle of red wine,'" Fetterman said. "People can understand that as well too. And it seems like it. And I don't use marijuana. It can be made legal tomorrow in Pennsylvania, and I'm not going to. Just like I'm not going to use tobacco. And I'm just saying [inaudible] I support the Safe Act. But if we just made it legal, we don't have the special Safe Beer Act or anything, we just need to make it legal in that. What I'm saying to you — and I'm going to save you the last minute here — is that I just believe it's freedom. I believe it's a freedom issue for people. And I believe it's making the legality, and I've been giving hundreds of hundreds of people pardons for having their lives ruined for having a B.S. — excuse me — a B.S. charge."
The third such example of the office altering his comments in recent weeks involved the one from Stein that drew condemnation. After spending over a month in a hospital for clinical depression treatment, Fetterman revealed his depression was "in full force" during his first few weeks in the Senate.
Fetterman suffered a stroke in May 2022 while campaigning for the Pennsylvania Senate race, resulting in auditory processing issues and depression.  Fetterman described his only midterm debate against Dr. Mehmet Oz as like "trying to run a marathon with a broken ankle." During the debate, Fetterman was granted the use of a closed captioning system so that he would be able to read the questions.
The senator's office did not respond to a Fox News Digital request for comment on the altered comments by press time.
Fox News Digital's David Rutz contributed to this report.
Joe Schoffstall is a politics producer/reporter for Fox News Digital. Story tips can be sent to Joe.Schoffstall@Fox.com and on Twitter: @joeschoffstall