Read more at https://www.foxnews.com/media/aoc-takes-picture-libsoftiktok-creator-storms-off-realizes-who
Rep. Alexandria Ocasio-Cortez, D-N.Y., stormed off after being accused of lying by Libs of TikTok creator Chaya Raichik in the Capitol on Thursday, calling her "super transphobic" for good measure. Raichik had just filed an ethics complaint at the congresswoman's office, saying the "Squad" member had defamed her during a Feb. 8 House Oversight and Accountability Committee hearing. 
The Libs of TikTok creator then spotted the Democrat walking through the Capitol and seized the opportunity to confront her. Raichik apparently had not yet revealed her identity. After cozying up to take an apparent picture, Raichik told Ocasio-Cortez who she was.
LIBS OF TIKTOK CREATOR ATTEMPTS TO CONFRONT AOC AT DC OFFICE, SAYS SHE'S LYING ABOUT GENDER SURGERY FOR MINORS
"I just delivered an ethics complaint to your office because you lied about me in a committee hearing," Raichik said.
Ocasio-Cortez immediately backed away and said, "I actually didn't, because you're actually super transphobic and I never want to share a space with you. Thank you!"
She then walked away.
The Democrat claimed that Raichik lied in a 2022 tweet when she said Boston Children's Hospital was "now offering 'gender-affirming hysterectomies' for young girls."  Raichik had shared videos from the children's hospital where doctors said they offered "gender-affirming hysterectomies."
"Are you aware… that from August 11th to August 16th that account posted false information about Boston Children's Hospital claiming that they were providing hysterectomies to children?" Ocasio-Cortez asked a former Twitter executive about that tweet.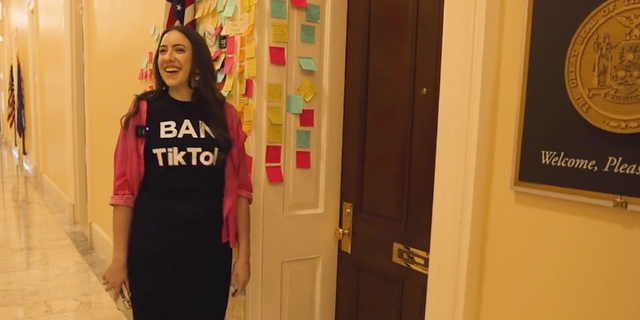 AOC RIPPED FOR POSTING ON TIKTOK AFTER HOUSE HEARING: 'THIRSTY FOR ATTENTION'
Last week, Raichik was unsuccessful at finding the Democrat at her Capitol Hill office to confront her.
The Heritage Foundation asked the Office of Congressional Ethics this week to open an investigation into the Democrat on Raichik's behalf for "falsely accusing" and "defaming" the creator of the Libs of TikTok Twitter account. The nine-page complaint defends Raichik's view that Boston Children's Hospital performs gender-affirming hysterectomies on young girls.
Ocasio-Cortez's office did not immediately respond to Fox News Digital's request for comment.
CLICK HERE TO GET THE FOX NEWS APP
Fox News' Peter Kasperowicz contributed to this report.
Kristine Parks is an associate editor for Fox News Digital. Read more.