Read more at https://www.foxnews.com/media/vivek-ramaswamy-angers-don-lemon-debate-civil-war-second-amendment-its-infuriating
2024 presidential candidate Vivek Ramaswamy angered "CNN This Morning" host Don Lemon during a debate on gun rights for Black Americans while on-air. During the heated exchange, Lemon took offense to Ramaswamy's statements at an NRA conference last week about Democrats in the South instituting gun laws to prevent African Americans from protecting their newfound rights in the post-Civil War era.
Lemon reduced Ramaswamy's point to a declaration that the Civil War was fought merely to give Black people gun rights and berated him for it, telling him the statement "insulted" him as a Black American.
DON LEMON'S 'PATHETIC' APOLOGY FOR SEXIST REMARKS SPARKS EVEN MORE FURY INSIDE CNN: 'F—–G A–HOLE'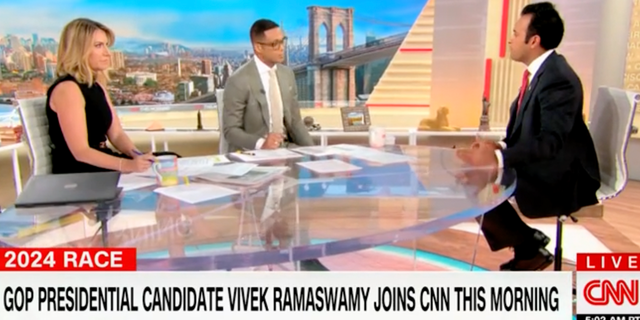 The CNN host further told Ramaswamy that he had no right to talk about the experience of Black people in America because he's not Black. Ramaswamy pushed back and insisted that Lemon was misunderstanding his point. He also argued that both men should be able to talk about the issue regardless of their skin color.
During the heated crosstalk, Lemon also snapped at his producers who were apparently distracting him over his earpiece.
The intense live debate came after the hosts played a moment from Ramaswamy's speech to the NRA in Indianapolis. During the clip, the businessman and presidential candidate addressed the crowd, saying, "I want you to raise your hand if you know when the first anti-gun laws were passed in this country. Raise your hand if you do. 1865."
He continued, saying, "We fought a civil war in this country to give Black Americans the equal protection under the law that we failed to secure them in 1776. But then you wanna know what happened? Southern states passed anti-gun laws that stopped Black people from owning guns. The Democrat Party, then as in now, wanted to put them back in chains."
After clarifying to co-host Poppy Harlow that he meant that modern Democratic Party policies (he mentioned former President Lyndon B. Johnson's "Great Society") are bad for African Americans much like those post-Civil War gun laws, Lemon stepped in, voicing some major disagreement with Ramaswamy's statement.
He cut in, saying, "I don't really see what one has to do with the other — and using the Civil War to talk about Black Americans — that war was not fought for Black people to have guns."
Ramaswamy clarified his stance, saying, "That war was fought for Black people to have freedoms in this country. Actually, that's why the Civil War was fought."
"Actually, a funny fact is — Black people did not get to enjoy the other freedoms until their Second Amendment rights were secured," he said.
Lemon interjected again, "But Black people still aren't allowed to enjoy the freedoms as well in this country."
Ramaswamy dismissed that claim outright, declaring, "I disagree with you on that Don… I think you're doing a disservice to this country by failing to recognize the fact that we have equality before the laws here."
DON LEMON SPOTTED ON THE BEACH AFTER PHONING IN APOLOGY TO CNN COLLEAGUES OVER SEXIST NIKKI HALEY COMMENTS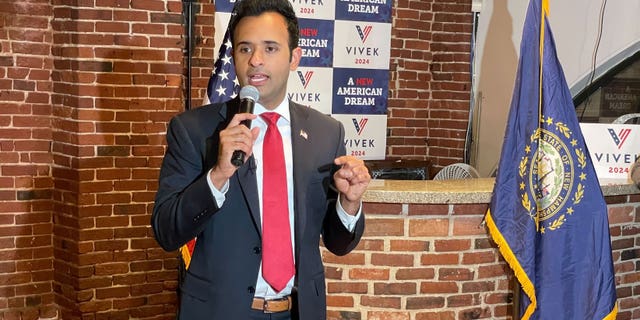 Getting a little flustered, Lemon tried to shut down Ramaswamy by claiming he doesn't have the requisite skin color to make such a statement. The anchor replied, "Well, OK. When you are in Black skin and you live in this country, then you can disagree with me."
The candidate shot back, saying, "Don, I think we have to be able to talk about these issues in the open regardless of the color of our skin."
"I think for you to compare 1865 and 1964 — I think it's insulting to Black people. It's insulting to me as an African American. I don't want to sit here and argue with you because it's infuriating for you to put those things together," Lemon said.

He then declared, "It's not right, your telling of history is wrong." Ramaswamy protested, asking what exactly was wrong, to which Lemon replied, "You're making people think that the Civil War was fought only for Black people to get guns."
Lemon called Ramaswamy's talking points "reductive," while the guest shot back that the host's interpretation of the NRA speech was "reductive and actually insulting."
As Ramaswamy continued, Lemon scolded his producers, who were apparently distracting him on his earpiece during the debate. He snapped, "Hang on, please. I cannot keep a thought if you guys are talking in my ear."
The debate continued for another minute or so before Lemon concluded, "The fact that I find insulting is that you are sitting here telling an African American about the rights and what you find insulting about the way I live, the skin I live in every day. And I know the freedoms that Black people don't have in this country, and that Black people do have."
Ramaswamy protested, stating, "I think we should be able to express our views regardless of the color of our skin. We should have this debate without me regarding you as a Black man."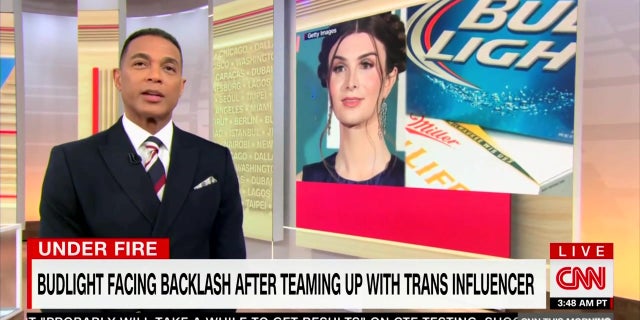 "I think it's insulting that you're sitting here — whatever ethnicity you are — 'splaining to me about what it's like to be Black in America. I'm sorry," Lemon said.
The candidate responded, "I'm an Indian American, and I'm proud of it."
Gabriel Hays is an associate editor for Fox News Digital.