Reported By Adam Casalino
|

October 19, 2020
If you believe the national polls, you'd think that Trump has no chance against Joe Biden. This, despite the fact that Trump has delivered for four years—while Biden hides in his basement.
But let's not forget that the media was predicting essentially a landslide victory for Hillary Clinton in 2016. And people who are actually tracking the numbers are showing that Trump is actually doing better than he was four years ago in swing states: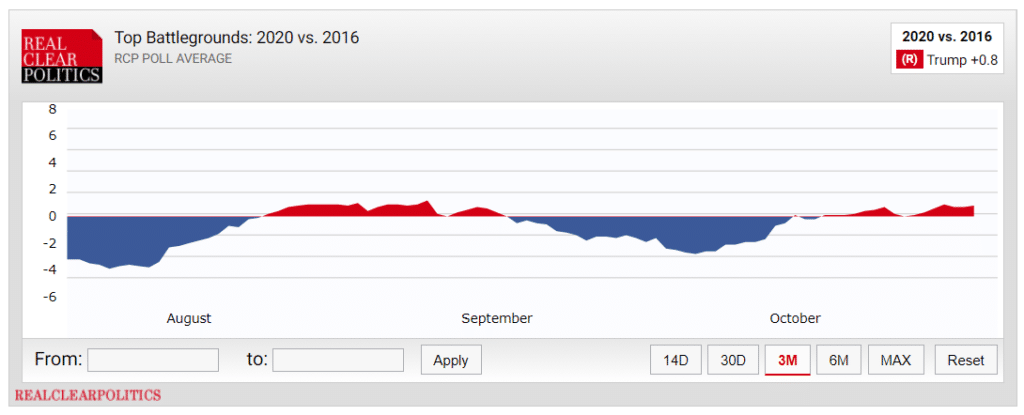 Tracking information from RCP reveals that, despite the liberal bias, Trump is actually polling better against Biden than he did against Clinton. He's +0.8% ahead.
In swing states, Biden's lead is actually smaller than Clinton's. Clinton went on to lose many key swing states, giving Trump a solid victory.
Does this suggest Trump will win by larger margins this election?
The Trafalgar Group, who was just about the only polling group who got 2016 election right (even the electoral vote) is giving Trump another victory:
This is Cahaly's breakdown: He believes Trump will win North Carolina and Florida and discounts Biden's chances in Georgia because the Republican-base vote is too big there (the same is true in Texas)…

Overall, Cahaly sees another Trump win. "If it all happened right now," he maintains, "my best guess would be an Electoral College victory in the high to 270s, low 280s."

The Trafalgar Group appears to be addressing the many problems with MSM polling. They are going after people the other pollsters ignore. And they keep their questions short.
Evidence suggests conservatives don't like answering polls and many people answer pollsters the way they think they want them to—so their answers are accurate with how they will vote.
Trafalgar is predicting a Trump win of 280.
Key Takeaways:
Swing state polls reveal that Trump is actually doing better than in 2016.
Trafalgar Group is one of few pollsters predicting a Trump victory.
They list many factors as to why modern polling is so inaccurate.
ABOUT THE AUTHOR: Adam Casalino
Adam Casalino is a freelance writer, cartoonist, and graphic designer. He is a regular contributor for the Patriot Journal. Find his other work:
http://www.talesofmaora.com