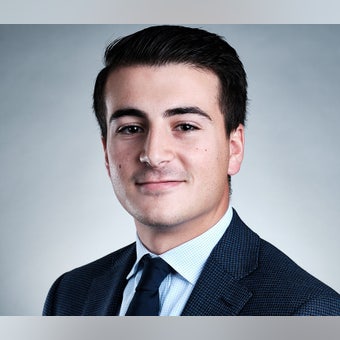 By Thomas Catenacci | Fox News | Published May 16, 2023 2:19pm EDT
Read more at https://www.foxnews.com/politics/biden-sinks-bipartisan-bill-protecting-us-solar-panel-makers-chinese-competition
President Biden vetoed a bipartisan resolution Tuesday that would have reversed his executive action last year ordering the Department of Commerce not to enforce tariffs on Chinese solar panel manufacturers for two years. Biden explained that the legislation — which recently passed the House and Senate with Democratic support — "bets against American innovation." Last year, Biden implemented the 24-month moratorium on the enforcement of solar panel anti-circumvention tariffs designed to protect U.S. companies, a move the White House said would facilitate investment in domestic solar panel production capabilities.
"Passage of this resolution bets against American innovation," Biden said in a statement Tuesday. "It would undermine these efforts and create deep uncertainty for American businesses and workers in the solar industry. Therefore, I am vetoing this resolution."
Biden added that he doesn't "intend to" extend the tariff suspension when the 24-month moratorium expires in June 2024.
DEM CONGRESSWOMAN SILENT ON WHY SHE SIGNED HUSH AGREEMENT INVOLVING CHINESE TECH COMPANY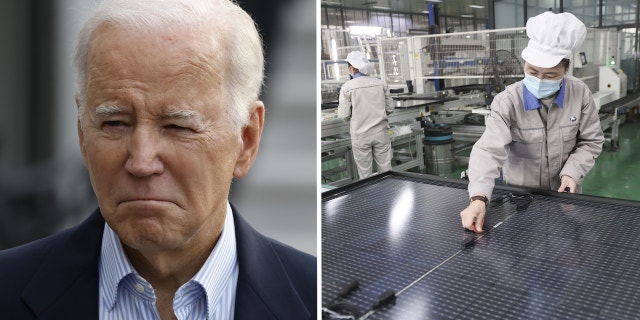 The president's executive action in June 2022 came after the Commerce Department said months earlier it would investigate whether Chinese manufacturers were routing solar panels through countries in Southeast Asia to avoid U.S. tariffs. And in December, the agency published its preliminary findings showing four large solar companies had routed products through Cambodia, Malaysia and Vietnam to circumvent duties.
The Commerce Department is expected to release its final findings this month.
CHINESE TECH COMPANIES ARE EXPLOITING US GREEN ENERGY GOALS, FORMER STATE DEPARTMENT OFFICIALS WARN
In response to the December findings, a bipartisan group of lawmakers led by Rep. Bill Posey, R-Fla., and joined by Rep. Dan Kildee, D-Mich., introduced the resolution striking down Biden's action in January, arguing tariffs were necessary to protect the fledgling U.S. solar industry which is dwarfed by Chinese industry. Sen. Rick Scott, R-Fla., introduced companion legislation co-sponsored by Democratic Sen. Joe Manchin.
The resolution — which utilizes the Congressional Review Act, a law that allows Congress to revoke federal regulations — passed the House in a 221-202 vote on April 28 and the Senate in a 56-41 vote on May 3.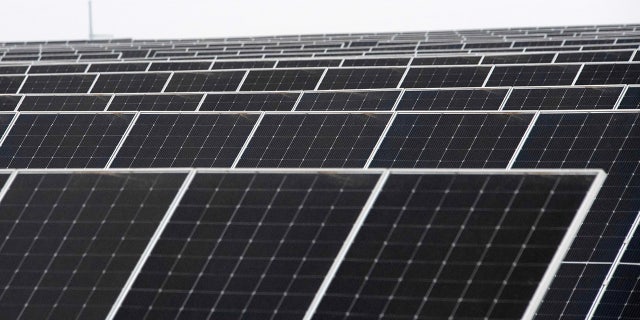 "I am disappointed that President Biden vetoed this important legislation," Kildee said Tuesday. "Failing to stand up to those who engage in unfair trade practices hurts American workers and manufacturers. Our workers and businesses will never be able to compete globally unless we hold those who violate U.S. trade laws accountable."

"The president's position, and today's veto, fails to hold China accountable and hurts American workers," the Democratic lawmaker continued. "Congress passed this bipartisan resolution with strong support from Republicans and Democrats. Now that the president has vetoed this bill, Congress should once again vote to override today's veto without delay."
Overall, Chinese companies control a more than 80% share in the global solar panel industry, controlling the supply chain in all the manufacturing stages of the product, according to the International Energy Agency. The Chinese solar industry has been tied to forced labor in China's Xinjiang province.
The resolution was endorsed by pro-tariff groups like the Coalition for a Prosperous America and human rights groups like the Uyghur Human Rights Project. Environmental groups and green energy organizations including the Solar Energy Industries Association (SEIA) opposed it.
"This action is a reaffirmation of the administration's commitment to business certainty in the clean energy sector, and a signal to companies to continue creating jobs, building domestic manufacturing capacity and investing in American communities," Abigail Ross Hopper, SEIA's president and CEO, said in response to Biden's veto Tuesday.
Thomas Catenacci is a politics writer for Fox News Digital.