Read more at https://www.foxnews.com/media/suny-albany-protesters-destroy-bible-free-speech-event-tolerant-left-ladies-gentlemen
Protesters at The State University of New York at Albany (SUNY Albany) worked to shut down conservative pundit Ian Haworth at an event Tuesday in defiance of the Turning Point USA speaker's discussion on free speech on college campuses.
The conservative pundit labeled a snippet of the campus catastrophe "the most socialist thing I've ever seen."
"Trans rights are human rights!" the group shouted at one point.
"F— you, TPUSA," they separately exclaimed.
COLUMBIA LAW STUDENTS FLIP OUT OVER KAVANAUGH EVENT, CALL FOR PROTESTS: 'WHITE SUPREMACIST'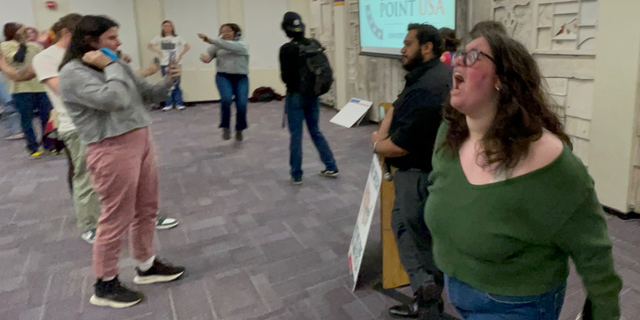 The Turning Point USA-sponsored talk titled "Free Speech on Campus" was sent into a tailspin as students hit Haworth with insults and expressions of "queer rage" filled the room.
"F— Ian!" protesters shouted in one video he posted to Twitter. "F— you, fascists!" rang out in another. Haworth laughed it off as "irony."
"Last night, I was at the University of Albany to speak with @TPUSA. My argument: free speech is being destroyed on college campuses. And like clockwork, some deranged protesters showed up and used the heckler's veto to try and shut down the even," he tweeted Wednesday.
"When the chapter tried to settle the protesters down so we could start the event, they responded with 'f— you @TPUSA' The tolerant left, ladies and gentlemen," he continued in the thread.
Haworth made several posts in the thread, pointing out the protesters who stormed the room who were eating the free pizza provided by the organization they were protesting.
PRO-LIFE LEADER FUMES AT VIRGINIA UNIVERSITY AFTER VIOLENT LEFT-WING PROTEST: 'KNEW THEY COULD CREATE CHAOS'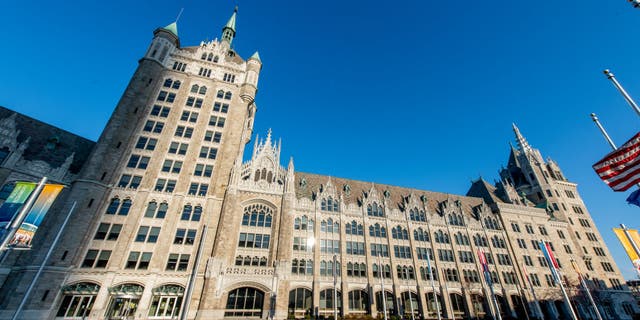 "The most socialist thing I've ever seen is a bunch of deranged students screaming 'no cops, no KKK, no @TPUSA' at a Jewish immigrant while also happily shoveling free pizza down their throats paid for by…@TPUSA!," he wrote.
Jokingly, he added, "Sure, they're Nazis, but who doesn't love a free slice?"
STANFORD LAW PROTESTERS DEMAND TO HAVE NAMES REDACTED FROM NEWS REPORTS: 'NOT HOW THE FIRST AMENDMENT WORKS'
One demonstrator, according to another tweet in the thread, even went as far as destroying an event attendee's Bible for "no reason whatsoever."
And, as Haworth noted, things got even weirder when protesters decided to form a conga line in the room, flipping off the camera as they passed by.
"Not one person seemed concerned that this is a traditional Cuban carnival dance, and is therefore an act of cultural appropriation," Haworth wrote on a video tweet.
Other students kicked off their Crocs and danced and screamed, before eventually taking over the room.
Haworth's event was eventually moved to another location, complete with a police escort and police presence surrounding the new venue.
"College is now where free speech goes to die, and we need to push back against this bulls— with everything we have. Don't let the angry minority bully people into silence," Haworth said.
Fox News Digital reached out to both Haworth and SUNY at Albany for comment, with SUNY at Albany providing the following statement:
"Consistent with the mission of an institution of higher learning, we expect members of our community to be able to voice their views in a manner that promotes constructive dialogue and honors UAlbany's commitment to freedom of expression," the school said. "This is especially important when it involves speech that members of our community find offensive or objectionable."
"Our constitutional obligation to protect speech, even when that speech fundamentally conflicts with our core values, is a pillar of our democratic system. We are equally committed to fostering an environment in which all students feel safe and included – and that the right to protest is also protected," it added.
SUNY at Albany pledged to help its community members understand their "rights and responsibilities under the First Amendment" and said all student organizations are entitled to reserve space and invite guest speakers "without interference."
The institution further detailed that university staff and the university police department worked with the hosting organization to relocate the event to ensure it could continue but to also provide protesters a space to voice their concerns, adding that two students were ticketed for trying to gain access to a restricted area reserved for the event.
Haworth responded with the following statement:
"The protesters who stormed the Turning Point USA event on free speech at University at Albany proved my point: college campuses are where free speech goes to die. The protesters disrupted the event, abusing and insulting the TPUSA chapter, college staff, law enforcement and their fellow students, with one goal: to shut down speech. While I fully support their right to protest (even if their accusations of me being an infamous Jewish immigrant transphobic misogynistic KKK member are laughably inaccurate), the heckler's veto is not free speech…and neither is destroying the property of TPUSA members!…
"Ultimately, this isn't about me. I doubt these protesters even knew who I was prior to this event. In reality, it's about any ideas that threaten the fascist ideology of leftism on campus. This unfortunate event proves the threat conservatives face every day on campus, and reinforces the truth that colleges have a duty to allow free speech and debate to flourish on campus," he concluded.
Haworth also thanked TPUSA, university faculty and law enforcement for making sure the event could proceed at the new venue.
Taylor Penley is a production assistant with Fox News.