By Amy Nelson | Fox News | Published March 9, 2023 11:30am EST
Read more at https://www.foxnews.com/media/texas-rancher-eviscerates-traitorous-biden-warns-matter-time-cartels-enter-border-towns
Texas rancher Debi Douglas spoke out Thursday about the escalating danger at the border after four Americans were kidnapped, and two killed, by a cartel in Mexico. Douglas' ranch is located in Brownsville, a city that sits along the Mexico border adjacent to Matamoros, where the kidnapping took place. Douglas said on "Fox & Friends First" that living conditions in her area are only getting worse, and she doesn't believe anything will improve even if the cartel members are arrested. 
"The Mexican government is afraid of the cartel," she reasoned. "If Biden does not do something, this is going to come more into our country."
Douglas said the community is largely unaware of the severity of the danger, and she believes the two individuals killed in Mexico didn't take the threat "to heart" when they traveled across the border. Douglas said she believes it's only a "matter of time" before cartels attempt to take over border towns in her state.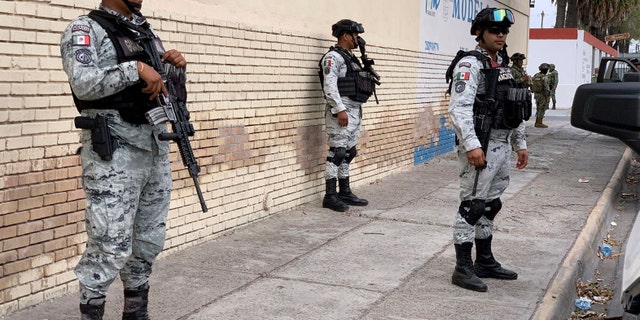 "And unless we do something, everybody had better get ready," she told co-hosts Todd Piro and Ashley Strohmier. 
The Biden administration has called the death of Americans "unacceptable" and said U.S. officials will work with the Mexican government to pursue justice. Douglas, however, said the Democratic administration's plan to address the problem is a "joke."
"The Mexican government is either partially paid off by the cartels or they fear the cartels. So the fact that Biden is saying he's going to work with them is absolutely a joke and an insult to the American people," she said.

"Our administration is never going to wake up," Douglas said, arguing that Biden does not care about the American people. "He's a puppet, and he has been protected in this country. And with him not in turn protecting the people of this country, he basically is a traitor."
She called Biden a "weak" individual and said she believes he wants "all these illegals" to enter the country. Douglas claimed Democrats want to allow illegal immigrants to vote to keep the party in power.
"If the border was even shut down today, we have an extreme problem with the illegals that are already in this country," she said. "They are a lot of criminals, that's been proven. There's child molesters. There's murderers."

"It's going to take the FBI, the CIA, ICE, everybody. Number one, shut the borders and then let's get on this. Let's deport them all," Douglas said.
Douglas said she's "more vigilant" now in protecting herself following the kidnapping of Americans.
"I've always been vigilant since the illegals have been pouring in," she said.

"All we can do is be armed and protect."
Amy Nelson is a producer with Fox News Digital.