Read more at https://www.foxnews.com/media/tucker-carlson-releases-exclusive-jan-6-footage-says-politicians-media-lied-about-sicknick-qanon-shaman
Fox News host Tucker Carlson says Democrats used Capitol police officer Brian Sicknick's death for their political agenda on 'Tucker Carlson Tonight.'
Tucker Carlson released never-before-seen footage from the Jan. 6, 2021 riots at Capitol Hill that appear to dispel several narratives pushed by the Democrat-controlled House Select Committee and the legacy media. House Speaker Kevin McCarthy granted "Tucker Carlson Tonight" an exclusive first look to over 40,000 hours of security camera footage from the Capitol Building that were hidden from the public for over two years. On Monday, Carlson offered the first glimpses of footage involving key figures from that day. 
Carlson concluded the footage proves that lawmakers and the media were "lying" about the events that took place on Jan. 6.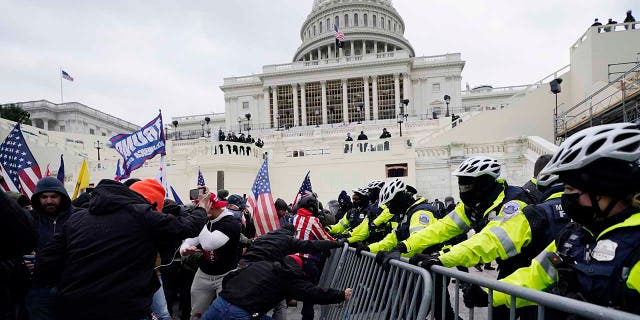 The first batch of footage showed Trump supporters peacefully touring the building, "sightseers" as Carlson put it, but the footage of the rioters overwhelmingly consumed the news coverage of Jan. 6, which many in D.C. have compared to 9/11 and the attack on Pearl Harbor. 
JUDGE DENIES JAN. 6 DEFENDANT'S TRIAL DELAY SOUGHT AFTER MCCARTHY'S RELEASE OF CAPITOL RIOT FOOTAGE: REPORT
Capitol police officers were seen escorting Jacob Chansley, a Navy veteran widely referred to in the liberal media as the "QAnon Shaman," around the building without incident. Carlson reported that officers were seen showing Chansley around, even trying to open locked doors for him. At one point, at least nine police officers were seen in close proximity to Chansley, and none of them slowed him down, as Carlson noted.
Chansley was later arrested and federally charged for "knowingly entering or remaining in any restricted building or grounds without lawful authority, and with violent entry and disorderly conduct on Capitol grounds." He was sentenced to nearly four years in prison.
"If he was in fact committing such a grave crime, why didn't the officers who were standing right next to him place him under arrest?" Carlson asked.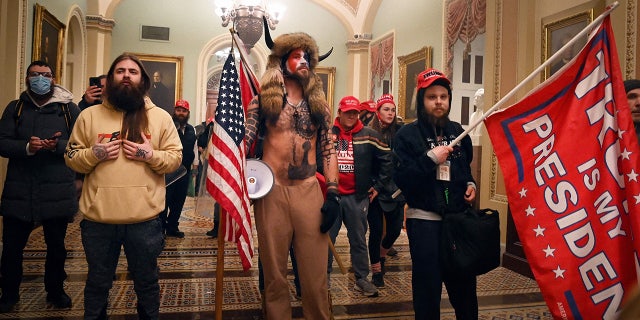 New York Post columnist Miranda Devine called the charges against Chansley "very sad," saying that the footage proves that he was "harmless." 
"You can see the way those people were walking through the Capitol… they are walking meekly, politely queuing, very peaceable. They don't mean any harm. They are treating the Capitol with reverence," Devine told Carlson. "That doesn't excuse the others, the minority of the protesters who did break windows and fight police and injure police and cause mayhem. But the people who are now being picked up and some of them have been jailed without trial for months, even years on end, did not commit violence. They walked through open doors, they were escorted by police, they felt that this was okay. And I think Jacob Chansley is a classic example of that."
The second batch of footage addressed the widely promoted narrative by Democrats and the media that the events of Jan. 6 was a "deadly insurrection," often citing the death of police officers, most of whom who died by suicide after the riot, while others died of natural causes. Only one person, an Air Force veteran and Trump supporter Ashli Babbitt, was shot and killed by a Capitol police officer.
BIDEN DOJ SAYS TRUMP CAN BE SUED BY POLICE, DEMOCRATS OVER JAN. 6 RIOT
However, the one person who became a household name was Officer Brian Sicknick, whom the media alleged was "attacked" by the mob and once falsely claimed was hit in the head with a fire extinguisher. Sicknick was seen walking normally while guiding Trump supporters out of the building as he wore a helmet, which appears to contradict the media narrative that he died of a head injury. 
"This tape overturns the single most powerful and politically useful lie that Democrats told us about January 6th," Carlson told viewers.
As Carlson noted, the footage of Sicknick had an electronic bookmark in the Capitol archives, alleging the Jan. 6 House Select Committee had reviewed it and chose not to include it in its widely publicized hearings and the final report.
"They lied about the police officer they claimed to revere," Carlson said. "If they were willing to do that, then their dishonesty knew no limits."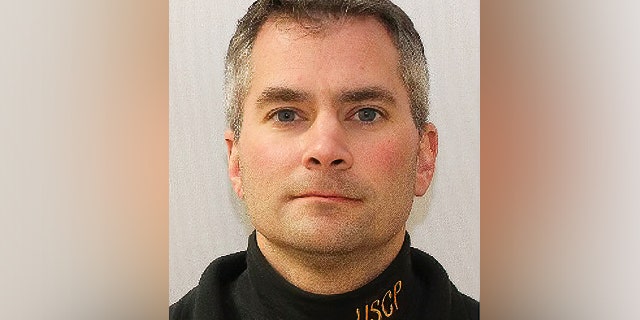 Washington Times opinion editor Charlie Hurt called the politicians and the press who peddled the Sicknick narrative "very sick."
The third batch of footage showed Ray Epps, the man caught urging Trump supporters to go into the Capitol the night before the Jan. 6 riot, seen on the grounds at least 30 minutes after the time he told House Select Committee regarding a text he sent to his nephew, claiming he was already heading back in his hotel. As Carlson noted, that false claim to congressional investigators is itself a crime.
The lack of any criminal charges against Epps has fueled suspicion from critics that he had coordinated with the FBI leading up to the riot.
WRAY RESPONDS TO FBI CRITIQUES OVER HUNTER BIDEN LAPTOP, TRUMP RAID, JAN. 6: WE'RE 'ON THE AMERICAN PEOPLE'S SIDE'
Democratic lawmakers pushed the narrative that some of their GOP colleagues aided rioters ahead of Jan. 6, singling out Rep. Barry Loudermilk, R-Ga., of leading a "reconnaissance mission" through the Capitol building the day before. In reality, Loudermilk was seen in footage giving a tour in a congressional building down the street to constituents, none of whom were linked to the so-called "insurrection."
Carlson also refuted the viral footage singling out Sen. Josh Hawley, R-Mo., who the House Select Committee claimed "fled" from the mob in a cowardly manner when in reality the full footage shows he was among several lawmakers who were rushed away from the Capitol by police with him on the tail end of the group.
"The clip was propaganda, not evidence," Carlson said.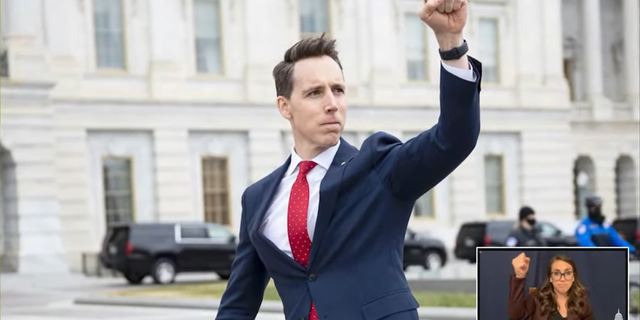 Rep. Thomas Massie, R-Ky., said the footage shown by Carlson has changed his perception of Jan. 6, noting that he was at the Capitol that day.
Massie cited a poll showing an overwhelming majority of Americans, including most Democrats, want all the Jan. 6 footage released. He also called for a "complete catalog of all the feds who were there" in order to get to the bottom of their involvement in the riot.
Carlson teased that more footage from Jan. 6 will be shared Tuesday on "Tucker Carlson Tonight."
Joseph A. Wulfsohn is a media reporter for Fox News Digital. Story tips can be sent to joseph.wulfsohn@fox.com and on Twitter: @JosephWulfsohn.