Read more at https://www.conservativereview.com/horowitz-top-aussie-and-israeli-doctors-warn-about-mass-underreported-and-censored-vax-injury-in-medical-community-2659000174.html/
When it comes to vaccine injury, silence is certainly golden, because it's the only currency valuable enough to cover up the atrocity of what was done to the entire global population over the past two years. The medical establishment has relied on doctors to turn a blind eye to vaccine injury, allowing those injured to languish without a proper diagnosis and treatment, and continue doubling down on even more doses of this dangerous therapeutic. Thankfully, a few of the former top enforcers of this dogma in the key Western countries of Australia and Israel are making amends for their past misdeeds.
As a lesbian who is married to a woman, a lifelong leader in sex education, former left-wing member of parliament, and former head of the Australian Medical Association, Dr. Kerryn Phelps is not exactly your candidate for right-wing conspiracy theorist. But in a wide-ranging interview with the Chronicle, the Sydney-based doctor publicly acknowledged her own injury as well as that of her partner and divulged how she faced censorship, a lack of treatment options, and a painful journey countless others are facing, a number she says is a lot higher than governments are willing to admit.
"This is an issue that I have witnessed firsthand with my wife, who suffered a severe neurological reaction to her first Pfizer vaccine within minutes, including burning face and gums, paraesethesiae, and numb hands and feet, while under observation by myself, another doctor, and a registered nurse at the time of immunization," the 65-year-old former AMA president said to the Chronicle.

"I continue to observe the devastating effects a year and a half later, with the addition of fatigue and additional neurological symptoms including nerve pains, altered sense of smell, visual disturbance, and musculoskeletal inflammation. The diagnosis and causation has been confirmed by several specialists who have told me that they have seen 'a lot' of patients in a similar situation."
Phelps noted that the Therapeutic Goods Administration failed to follow up with her reported injury, and many
doctors have told her that not only are they seeing the injuries in droves, but many practitioners themselves were injured but refuse to speak out.
"Regulators of the medical profession have censored public discussion about adverse events following immunization, with threats to doctors not to make any public statements about anything that 'might undermine the government's vaccine rollout' or risk suspension or loss of their registration," she said.
In other words, there are thousands of doctors who know what is going on, many experiencing it themselves, but who refuse to speak out. Some remain silent; others downright continue promoting the shots. What is quite telling is how even Dr. Phelps herself was still promoting the shots on social media a month after she claims to have been injured by the shots.
It demonstrates how entrenched the vaccine cult is and how long it took for even someone injured this badly (along with her partner) to speak out.
The bombshell from Dr. Phelps is significant enough given her biography, but an even more explosive convert to the cause of truth is Professor Shmuel Shapira, who headed the Israel Institute for Biological Research from 2013 to 2021 and literally led the development of Israel's coronavirus vaccination scheme, in the country that Pfizer referred to as the laboratory for its experimentation. Shapira has been speaking out against the shots for months, but not after he was personally injured by his third dose. Last week, he wrote a series of tweets describing his conversion:
Why aren't others speaking out? Well, when even the man who was almost the Fauci of Israel gets this much blowback, it's no wonder few have the courage to fight.
What this means is that there are likely a great many others who know this is going on – perhaps from personal experience – and yet, like a death cult, they will not admit they were wrong. They are trained to find only medical ailments they are primed to look for. If it's not in their memorized and regimented protocols, then it doesn't exist. The medical system has become so monotonized and streamlined that almost no doctor is willing to even cognitively question the hierarchy, much less articulate opposition.
This code of silence would be bad enough if the vaccination campaign were over and it was just an issue of treating those already injured. Yet the pressure and even mandates still exist in some settings, and almost all doctors still promote the vaccines. Furthermore, they are pushing mRNA technology for flu and RSV shots as early as next fall.
Silently accepting this degree of short-term and unknown long-term risk would be bad enough if the shots actually worked against COVID. But as we've known for well over a year and a half, the more you inject, the more you infect. The latest evidence is from a Cleveland Clinic preprint study of over 50,000 of CC's in-house health care workers. The retrospective cohort study shows a strong positive correlation between an increase in vaccine doses and a stronger likelihood to test positive for the virus. The unvaccinated performed the best, and the boosted were three times more likely to get infected.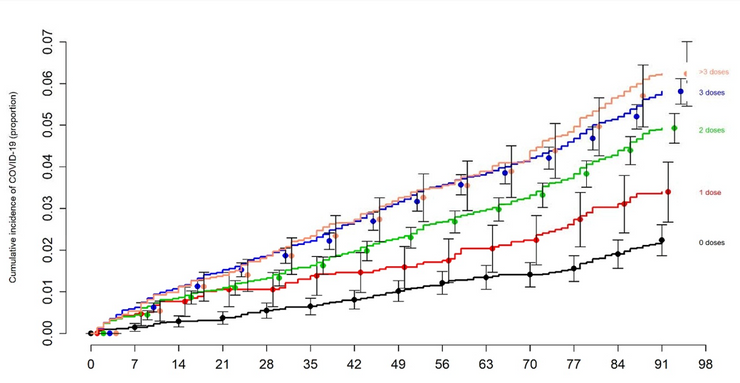 This is just over 90 days. We've seen in the past from other studies that the negative efficacy intensifies over the months, which might explain why for the first time in history this virus shows no signs of going away, except in Africa, where few people were vaccinated. Last year, long before the negative efficacy of the shots associated with Omicron that we are seeing today, Sweden conducted the most comprehensive long-term study of vaccine effectiveness in the world and found that after six to seven months, "no effectiveness could be detected" from the Pfizer shot. In fact, the study found negative efficacy after 210 days for those over 50, which harmonizes with what we are seeing before our very eyes throughout the world. For some older adults, the shots are as much as -77% effective, and the numbers seem to drop every month.
Shockingly, this cycle of failure allows the same duplicitous doctors to fearmonger even more people into getting even more doses, perpetuating and exacerbating an endless cycle of viral immune escape, mutations, and pathogenic priming that leads to negative efficacy reflective of suboptimal antibodies and a leaky vaccine.
For months, Walgreens has been posting the results of its weekly COVID testing by vaccination status. They have consistently shown the unvaccinated to have the lowest number of cases relative to the number of tests (the unvaccinated are subjected to more testing mandates in the workforce).

As you can see, the unvaccinated have the lowest positivity rate. It's also self-evident that the negative efficacy intensifies over time since the duration of the last dose. And even the Omicron boosters, which were tested on eight blind mice, are now addressing a variant that is nearly extinct. According to the CDC, BA.4 is extinct and BA.5 represents only 10% of cases and is rapidly declining.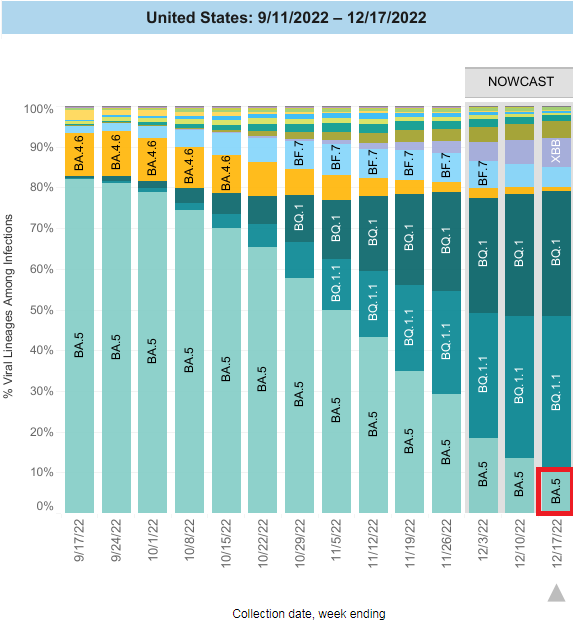 Yet the FDA just approved these extinct, dangerous, negative-efficacy shots for babies! It's no longer a tenable position for Republicans to merely oppose mandates. Mind you, so many red states still have mandates on health care and in public colleges. They must completely stop promoting the shots, oppose any future mRNA shots under the current design, sponsor treatment for those injured, create state-based vaccine reporting, and encourage rather than punish doctors to speak out and dissent. "See something, say something" needs to be the catchphrase in the medical profession. Too many lives are on the line to remain silent.