Read more at https://1776coalition.com/featured-content/house-republicans-say-biden-border-policies-are-causing-smuggling-of-people-from-all-over-the-world/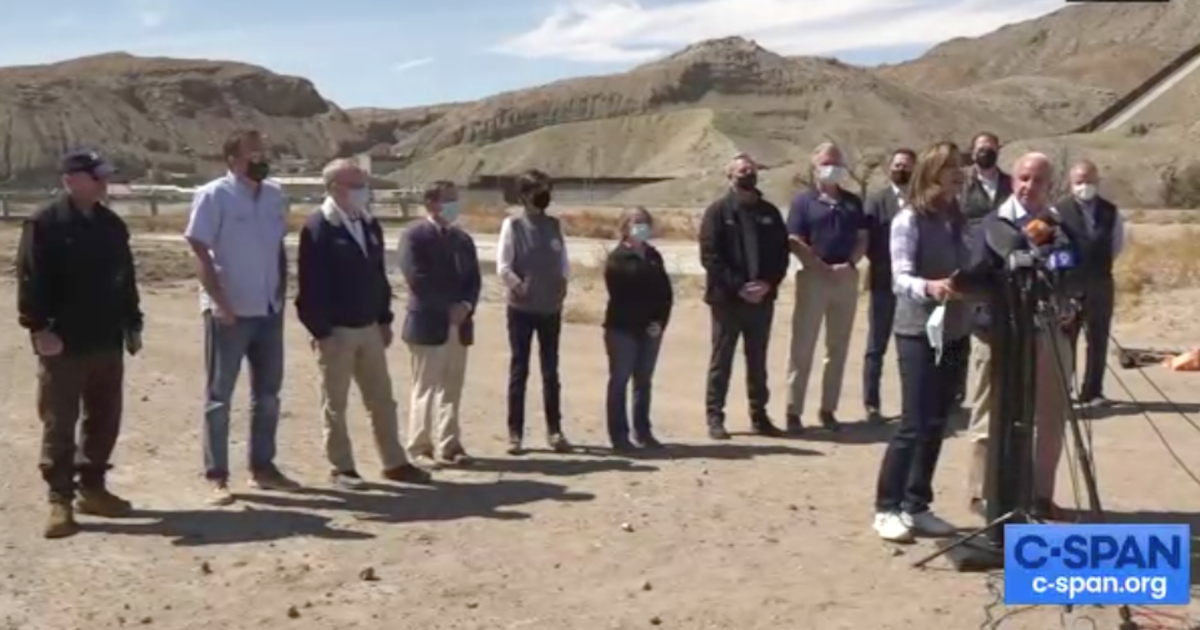 House Republicans claimed during a tour of the southern border that the Biden administration's immigration policies have prompted organized crime syndicates not only to increase smuggling children and families to the border but adults from around the world, including some with ties to terrorism.
"I just left a few border agents, and I asked them, 'Who are the individuals you're catching?'" House Minority Leader Kevin McCarthy of California said during a press conference in El Paso, Texas, Monday. "They're from Central America. But do you know who else? Iran. Yemen. Sri Lanka. When I walked through the facility, there's more Haitians than any other nationality I saw. And why were they coming now? You ask the border agents; they were shocked themselves: because they're being released into the country."
House Homeland Security Committee ranking member John Katko, a former federal prosecutor who worked in El Paso, said the international cartels are "masterfully" exploiting the border due to an easing of Trump-era border restrictions that prevented people from seeking asylum at the border and barred anyone from being released into the United States.
"People they've caught in the last few days [in Border Patrol's El Paso sector] have been under the terror watch list," Katko said. "Individuals that they have on the watch list for terrorism are now starting to exploit the southern border."
Border Patrol does not disclose the identities or affiliations of adults its agents arrest at the border, and it has historically arrested people from more than 90 countries each year.
McCarthy and a dozen Republican colleagues visited West Texas earlier in the day, where they went inside a new $48 million Border Patrol facility that was built last year to house migrant families after agents in the region were overwhelmed by families during the 2019 humanitarian crisis.
"We built the facility larger than we ever thought we could," said McCarthy. "Today, we made history. Today they [are] overcapacity. … It's only growing exponentially every single day."

"You're spending tens of thousands of dollars in a day just to feed this surge. … They're spending tens of thousands more a day to clothe them, to transfer them," said Katko. "Most [unaccompanied children] have a piece of paper across their shirt with instructions on who they are, where are they going, or what information they get, and what they need to do. So it's very organized, and you're paying a lot of money for a child — to get them across."
Several lawmakers expressed frustration that the Border Patrol is not administering coronavirus tests before releasing people into the U.S. or before transferring people to other agencies.
"At a time when the president will keep our country closed, when maybe we have hoped for a Fourth of July to get together just with their family, how much spread of COVID Is he creating every single day by his policies along this border?" McCarthy said.
Rep. Maria Salazar, a first-term Floridian, called on Hispanic Americans to "be part of the solution" because the surge of migrants is a "problem that belongs to all Americans, including the Hispanic Americans."
"We need to join forces and send a message that we cannot allow what's happening on the border because it's our, our girls, Honduras, Guatemala, Nicaragua, the ones who are being raped. It's our girls, the ones … who are being trafficked," said Salazar. "Send a message to your representatives that we cannot have this happening at the border because the overwhelming majority of the people that are trying to come in belong to our group, to our ethnic group."
In February, illegal immigration at the southern border peaked at the highest level since 2019. More than 100,000 people were encountered attempting to enter the U.S. from Mexico, nearly all between ports of entry where vehicles and pedestrians are supposed to be inspected before admission into the country. That figure is up from 78,000 encountered in January.
February saw a 61% increase in the number of unaccompanied children taken into custody, as well as a 164% increase in the number of family units. Approximately 9,500 solo children and 20,000 family units were encountered. Children and adults are to be turned over within three days to other federal agencies for longer-term holding, but Border Patrol is overwhelmed taking people into custody, and agencies are at capacity and unable to accept transfers.
Over the weekend, Homeland Security Secretary Alejandro Mayorkas announced the Federal Emergency Management Agency was sending in staff to help with several thousands of children arriving each week.
The rise in illegal migration is due to a number of factors, including high crime and economic instability in sending countries across Central America and Mexico that have worsened due to the coronavirus pandemic.
Last spring, Border Patrol began to immediately return nearly all illegal immigrants to Mexico or their home countries under an initiative known as Title 42, which was implemented to prevent the spread of the coronavirus in small, crowded holding facilities on the border. Last April, just 17,000 people were encountered on the southern border. That number increased month to month to around 70,000 through each month in the fall and early winter. The Biden administration chose not to return single children immediately, and it also stopped pushing asylum-seekers back into Mexico to await court proceedings under a Trump-era initiative known as the Migrant Protection Protocols.
The surge of people coming over the border is also happening despite the Trump administration's completion of 450 miles of border wall before President Biden halted all projects in January. While the wall is meant to deny entry at certain places, Border Patrol officials have defended the rising number of arrests as proof that it works because it is funneling people to certain places that do not have a barrier so people trying to get into the U.S. can be easily apprehended by federal law enforcement.