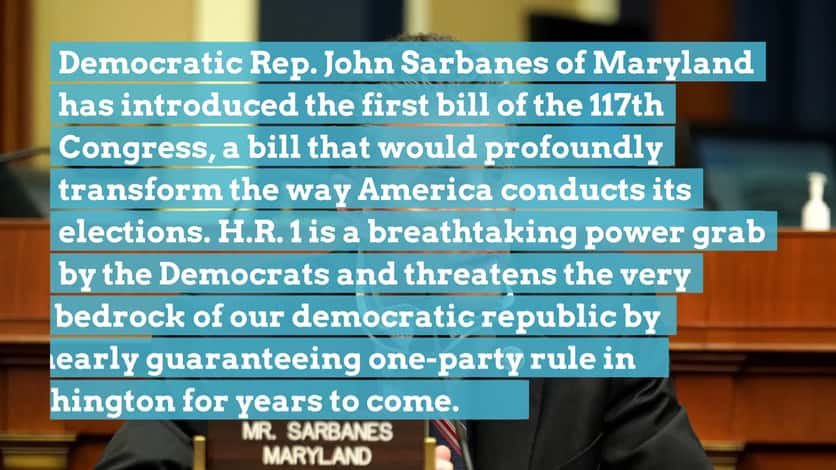 Democratic Rep. John Sarbanes of Maryland has introduced the first bill of the 117th Congress, a bill that would profoundly transform the way America conducts its elections. H.R. 1 is a breathtaking power grab by the Democrats and threatens the very bedrock of our democratic republic by nearly guaranteeing one-party rule in Washington for years to come.
According to a statement on Sarbanes' website, "the 2020 election underscored the need for comprehensive, structural democracy reform. Americans across the country were forced to overcome rampant voter suppression, gerrymandering and a torrent of special-interest dark money just to exercise their vote and their voice in our democracy."
Sarbanes tells his constituents that "H. R. 1 is a transformational anti-corruption and clean elections reform package" intended to "clean up corruption in Washington, empower the American people and restore faith and integrity to our government."
Advertisement – story continues below
The stated purpose of H.R. 1, ironically called the "For the People Act," is: "To expand Americans' access to the ballot box, reduce the influence of big money in politics, strengthen ethics rules for public servants, and implement other anti-corruption measures for the purpose of fortifying our democracy, and for other purposes." The full text of H.R. 1 can be viewed here.
The real purpose of the bill is to make permanent many of the changes made to state voting systems and procedures ostensibly to facilitate voting in the age of COVID-19.
One of the most notable features of H.R. 1 is that it strips states of the right to set their own standards for how elections are to be conducted. Election laws will be determined at the federal level.
Under this bill, states would be required to promote the use of mail-in voting, to offer online applications for voter registration, and to provide automatic and even same-day voter registration.
Advertisement – story continues below
H.R. 1 would all but eliminate voter ID laws. It would prohibit states from "requiring identification as a condition of obtaining a ballot." However, the bill would allow a state to require "a signature of the individual or similar affirmation as a condition of obtaining an absentee ballot." After all, we must protect the integrity of our elections.
In Section 1005, the bill seeks to prohibit a state "from requiring applicants to provide more than last four digits of Social Security number." Currently, in some states, if an individual without a driver's license registers to vote, an applicant is required to supply the full Social Security number.